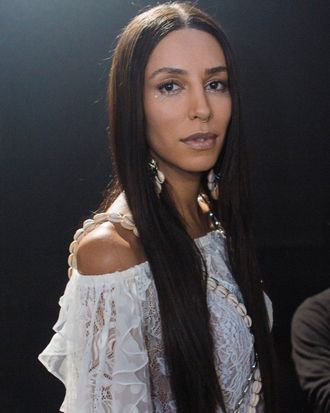 Lea T.
Photo: Mauricio Santana/Corbis
Transgender Brazilian model Lea T, also known as Leandra Medeiros Cerezo, is somewhat of a trans pioneer. In 2010, her good friend designer Riccardo Tisci cast her in his 2010 Givenchy ad campaign (the T in her professional name stands for Tisci). Since then, she's appeared in Vogue Paris and Love magazine and on one of Oprah's last shows. She is also the face of Redken, making her one of the first transgender models to front a major beauty brand. Lea T has been taking a break from modeling, but the Cut caught up with her in Paris for a chat about Caitlyn Jenner, what it takes for attitudes to evolve, and whether she considers herself an icon.
How has your fashion month been going?
Well, actually, I'm a little out of the fashion system. I'm living in the jungle, with monkeys and birds. I just came yesterday and have been really relaxed. Now, the time is changing, my age is changing, even my job is changing.
How did it feel when Redken said they wanted you to be one of their faces?
It's always a surprise because I know working with me is not the easiest thing. You have a lot of controversy, some people like it and other people hate it and it's political. In the beginning, I was in shock. It was intense, you know? Then you get a little bit worried because of the kind of responsibility you have.
With everything I do, I'm not thinking about me. I will always worry for the team or the group, because you want to represent everything in the best way possible. You need to be professional and know what you're doing. I don't know how to say thanks to God all the time for giving me these opportunities.
With Caitlyn Jenner, in the U.S., it feels like much of the support has been positive. 
Yes, something has changed. People are opening their minds. When I started, we were more like jumping in the dark, you know? We didn't think about being first, because we always existed. Now it's getting better. There's much more visibility with Caitlyn.
They say American people are taking it very well, and if you go to New York, L.A, yes, it's more accepted. But in many places in America, and in the world, there is a still lot of discrimination.
But it's not only my community. We can speak about transgender people, about gay people, about dark skin, about the Asian skin. We have all kinds of discrimination and suffering, and that is the work we need to do. We don't have to be like, Okay, now it's fine, because it's not fine. Believe me, I come from Brazil where we are the No. 1 country with more criminality about homophobia and being transgender. I'm seeing what we did, but we need to do much more. We shouldn't think that now it's done because it's still really hard.
People accept you easily if you look beautiful or if you have money. I am not beautiful but I had the opportunity, thank God, to look fabulous. But if you have no money, if you have no opportunity, people don't accept you. Many times, people come to me and look at another transgender person who maybe is not lucky in the body, and say, "You don't look like her, thank God."
We are not all the same; we don't need to have all the same prototype. In beauty, when there is a prototype, you become a slave of this icon, of this canon of beauty. But you need to see inside the person. With all this press we are doing, I'm trying to think like Redken, because I'm not an icon of beauty.
You don't see yourself as a beauty icon? 
No. [Laughs.] I'm really different from the normal. I don't speak too much about how skinny I am or how my boobs look and other things. I spoke to you about Brazil, but in Iran, people die if they're gay. There's still a lot of things we have to do and we are going to do it. I'm a positive person. We have to be because life is too short.
Before, when I was living and working in Paris, New York, and London, I couldn't reflect very much. I was just working, and focused. I never was shy about saying what I am. I wanted to do everything so that people know I'm transgender. I could work like other people. It wasn't about being a model. It was more like, I can have a chance to pay my rent, pay my surgeries, and do my things to live with my serenity and peace.
When I arrived to the jungle and was living in Brazil, I started to understand that we have a mission. If God put us here in this world, it's to do something. Me, you, her: We all have to do something. For you, it's giving information, which is important because information is everything. We all have a reason to come here.
Do you live in an actual jungle?
I live in the mountains in a little village, kind of hidden. We are like a community of 5,000 in a place called Chapada dos Veadeiros. It's an energetic and organic community. We plant what we eat. I heard about this place when I was in Ibiza. And then, when you arrive in this place, you realize it's not you who chooses the place. The place chooses you. I felt like I was called in to see this. I'm the happiest person in the world. It's so beautiful.
You have said in previous interviews that you wanted to be a messenger. What message do you hope to deliver? 
We are all messengers. It's not as if I'm the messenger. We are all messengers. We all need to give messages and information.
Do you feel like it's the fashion world's place to deliver messages? 
Yes, but all of us. My guru — he passed away but he used to say that we are all leaves on a tree. We are all different, but we are part of the same tree and need to grow together.
This interview has been condensed and edited.