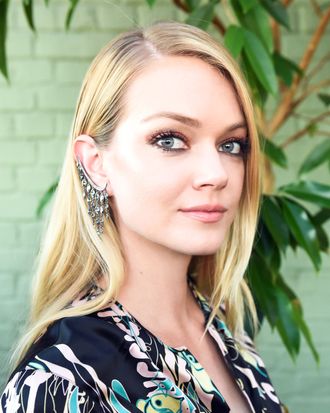 Lindsay Ellingson.
Photo: Neil Rasmus.com/BFA
Former Victoria's Secret model Lindsay Ellingson is known for her remarkable origin story: Immediately after she was discovered, John Galliano flew her to Paris for a meeting. She later opened the Dior show. Now the model is the co-founder and creative director of a travel-inspired beauty line called Wander Beauty. She talks to the Cut about when she was in the best shape of her life, the importance of gratitude, and her favorite cold-pressed juices. 
How I start my mornings: I start my morning waking up next to my dog, Carly, so I start my day with a smile. I then heat up my teakettle. I had a consultation with the ayurvedic specialist who told me that I should drink warm, filtered water in the morning. He said your body absorbs the warm water better than cold and that it's really soothing to your stomach. I actually find that I don't need caffeine like coffee or tea. If I'm well-rested and have my breakfast, that gives me energy for my day. But sometimes, around 4 p.m., I'll get an iced brew coffee from Intelligentsia.
For breakfast, if I have time, I like to make a smoothie with almond butter, strawberries, and almond milk. It tastes like a treat and gives you energy. Or else I'll eat seven-grain toast with avocado, sea salt, and cumin, to spice it up. On the go, I found this amazing super-food cereal that you add hot water to, which I found at my yoga studio. It's called Vigilant Eats and they come in flavors like coconut maple.
What wellness means to me: I've learned a lot through my yoga studio, Yoga 216. I also met with Dr. Pratima Raichur. I left from that appointment being like, I will try to remember everything I learned here forever. Everything you are thinking affects how you look and feel. Thoughts are just as important. If you are having a stressful day, it's good to define a few things that you are grateful for, to wake up with gratitude. I have a journal, I write down a few things and think about three things that I'm thankful for like Carly and all these other beautiful things. It makes you feel uplifted.
My wellness journey over time: I think I'm much healthier now. I was a dancer for ten years and was in very good shape. I was used to waking up at 5 a.m. to work out every day. Modeling was a natural transition except it was less about wellness. The year I started modeling, I went straight to Paris where I was exposed to the French patisseries — oh my god. Nothing beats an amazing almond croissant. And of course, my mom's cooking was healthier than chain restaurants. But I've become exposed to so many more options. There are more ways to eat healthy and organic, like with cold-pressed juice options, especially living in NYC.
How I sweat: I do yoga three times a week. It's not Bikram but it's heated up to 90 degrees. I know a lot of people believe that in yoga you're just stretching, but this is a more powerful type of yoga where you are also lengthening your muscles and it involves a lot of strength. I also like to bike a lot. For the past two years, my husband and I have done 50-mile bike rides to raise money for cancer research. It's the most amazing feeling at the end, helping people and that rush of serotonin. I've tried really intense cardio workouts and it just doesn't work for me. I don't love it. I want to go somewhere and really enjoy it and feel good. I mean, I definitely saw results but couldn't walk for two days. I'd rather just ease into things.
Before the Victoria's Secret show, I would always ramp it up. The two years of my life that I worked out with Mary Helen Bowers at Ballet Beautiful had me in the best shape of my life. For me, it's about feeling curvy, healthy, and gorgeous. In lingerie you want to feel sexy and curvy, so you need to build muscle in the right area to get the right hourglass shape.
In my normal routine, if I have something big coming up, I'll step it up to feel better about myself. I am naturally thin but I like to have muscle tone. Clients appreciate that, too. If I'm ramping it up, I try to do four or five workouts a week and add one to two more classes than I would normally take.
On food: It's always different. I'm a big foodie. I love restaurants like Cookshop, where they are so dog-friendly. I like to go there for lunch and sit outside with Carly — they all know her there. When I eat, I think, Is this healthy? I stay away from anything deep-fried or that has a lot of preservatives. But it's hard. One of my indulgences is French fries. I don't diet, I don't think it works for me. I'm a naturally thin woman but I want food that makes me feel good and energized. But I do make a choice: indulge here and there and indulge in almost everything.
Today, I'm having an egg-white scramble with avocado and mushroom. My husband and I cook together. One thing that we will make is brown-rice pasta with turkey sausage, broccoli, and marinara sauce. It's so easy to make and hits all the food groups in one. Or I will do salmon, sweet potatoes, and kale salad. I take E3 or go to Juice Press where I'll drink their coconut water, Gravity, or beet juice in addition to the regular food I eat. I think it's definitely improved my fitness having that. 
On dog food: My dog eats all natural and organic. She's an expensive little girl. She has a sensitive stomach. We have an amazing pet shop next door and they have unique dog treats that are all natural.
On her beauty line: Wander Beauty is inspired by all of my travel experiences. I've been modeling for the past ten years and developed this passion for beauty. I even started doing my own makeup for the red carpet or friends for date nights. Last year, I met my co-founder and we clicked right away. We met the next day on her couch. Less than a year later, we had our first product. Every product has a story and it's my way of sharing all of the knowledge that I've gained. We have a multi-ethnic approach to beauty. On our site, you can see I cast six models with a range of different skin tones so that you can go on the site and see the makeup applied on all of the girls.
Her wellness advice: I believe in the power of positive thinking. If you have a little negative thought, internally tell yourself, Cancel, cancel. You turn it around into a positive thing. It also involves wellness. Take care of yourself. Find a workout that is convenient and that you like. It makes it easy when you like it. The more that you do get into a workout that you love, the better you feel about yourself.
This interview has been condensed and edited.