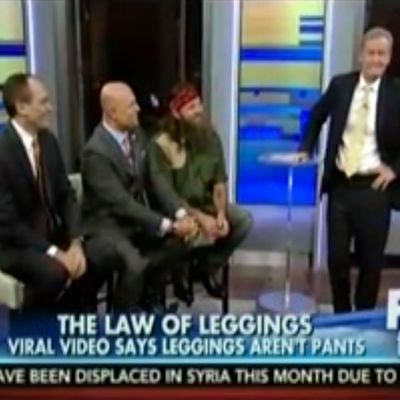 After a video of a woman rehashing the age-old debate about leggings-as-pants went viral yesterday, Fox and Friends decided to seek advice from the experts. You know, the people most impacted by women's fashion trends. Dads.
Host Steve Doocy brought Willie Robertson, Arthur Aidala, and Andrew Sansone on so we could finally hear their opinions on what women should and shouldn't be allowed to wear. To kick off the debate, Doocy asked Robertson, "Willie, are you comfortable with the women in your life parading in public in leggings?" Robertson was fine with it — as long as girls wear long shirts. You heard him, ladies. The one guy from Duck Dynasty says NO LEGGINGS unless you wear them with long shirts.
Fox then paraded three women in different leggings-centric outfits in front of the panelists and asked the men to judge them.
"We took nitroglycerin pills before she came on the set, just to make sure," Aidala announced, after a woman in leggings and a tank top came out. "Obviously, her physique, god bless you, you've worked out, you've earned that. And there are appropriate places to wear that. But I wouldn't wear that to church on Sunday."
Ya can't make this stuff up.
(Hat-tip, Jezebel)