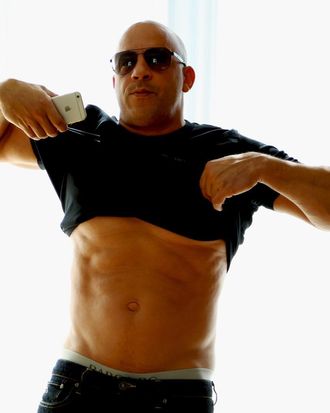 Vin Diesel.
Photo: Vin Diesel
Last week, the tabloids sneered at Vin Diesel when he was photographed shirtless on his hotel balcony, smoking a cigarette. They didn't sneer because of the smoke — they took issue with his physique, joking that he was "showing his softer side." We knew what it was: a dadbod.
Vin — ever the #happycreative optimist and deep soul — would not have it. On Instagram yesterday he teased us with a photo of himself fully clothed (a preview, if you will), saying, "It is amazing the response from the journalists who I have been talking to for the last two days in New York. Today one wanted to see the dad bod. Haha. I am wondering if I should show the picture … Body-shaming is always wrong! What do you think? #LastWitchHunter."
Then we all chanted, "Show us. Show us. Show us!"
And above we have an updated, slightly painted-on look from Vin to prove that all bodies are good bodies. 
So Vin stands up for the dadbods, but wants us to know that he still has a #radbod. We can live with the contradiction.