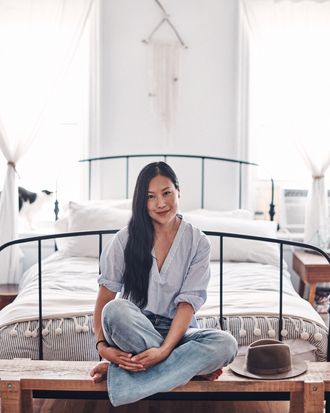 Joyce Lee.
Photo: Madewell
Now that Somsack Sikhounmuong has moved on to J.Crew, Madewell is in the hands of his protégé, Joyce Lee. Yesterday, we previewed her spring 2016 look book, which is full of denim and bohemian separates, all of which we wanted to wear immediately. Lee might be new to the position, but she's spent over seven years at Madewell, starting on the accessories team. "I'm excited to be able to do more, and touch every part of the collection, and put my own feminine touch on things. I'm always thinking about the Madewell girl, what she needs from us, and what her lifestyle is about," Lee says.
Lee's spring collection reflects her deep understanding of what the Madewell customer wants: lived-in denim, layers upon layers, and neutral staples. But given the look book's plethora of off-the-shoulder tops, lace-up designs, and suede, it's clear that she's interested in what's trending now. Lee explained, "For us, it's always a nod to what's happening, but doing it in our own way. It's a timeless interpretation of what's out there."
Lee has also expanded on Madewell's philosophy of "building your wardrobe" — acquiring pieces that work well in many different combinations. The Madewell girl has evolved into someone with wide-ranging influences, hence the collaboration with Austin-based JM Drygoods, which makes custom hand-embroidered patterns. And because of previous success with leather monogramming, the company is now offering chain-stitch embroidery on denim, allowing customers the option to choose thread color and wording on various jeans and jackets from the collection.
Denim has really become Madewell's bread and butter. Indigo was the starting point and the brand built up from there by mixing in warm tones and patterns. Adding the trendy high-waisted element to most jeans gave customers the ability to half-tuck and layer with a textured belt, bandanna, or other novelty accessories. "What's great about Madewell is that it's all really wearable pieces that you can mix and match — there's no pressure to put together a full head-to-toe look in a certain way," Lee says. All of the pieces will start trickling into stores in February 2016.