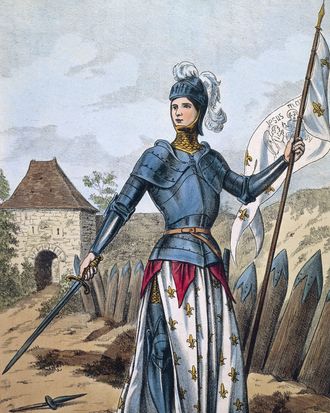 Joan of Arc
Photo: DEA / SEEMULLER
A woman in Indianapolis, Indiana, showed the utmost in vintage badassery on Thursday night when a man tried to break into her home. Karen Dolley, 43, used the skills she'd learned as a teenager in the Society for Creative Anachronism — an "international organization dedicated to researching and re-creating the arts and skills of pre-17th-century Europe" — to hold off a devious varlet who had entered her chambers with evil intent.
The Indianapolis Star reports that Dolley heard a man's voice in her apartment at around midnight on Thursday night, and then physically confronted him, "punching him about 10 times and cornering him in her bedroom." Then, when she needed to find a way to subdue her opponent until police arrived, she reached for a Japanese-style sword, keeping the man at swordpoint until cops came to take him away. Her time spent learning medieval fighting skills as a teen — as well as her habit of keeping a massive sword within arm's reach — obviously paid off.
The man was taken away by police and even reportedly apologized to Dolley on his way out. Would she fight so intensely again if she had to? Dolley told the Star, "At the end of the day, I'm glad to know that even if I wake up in the middle of the night, I'm not going down without a fight." Never laugh at a cosplayer again.