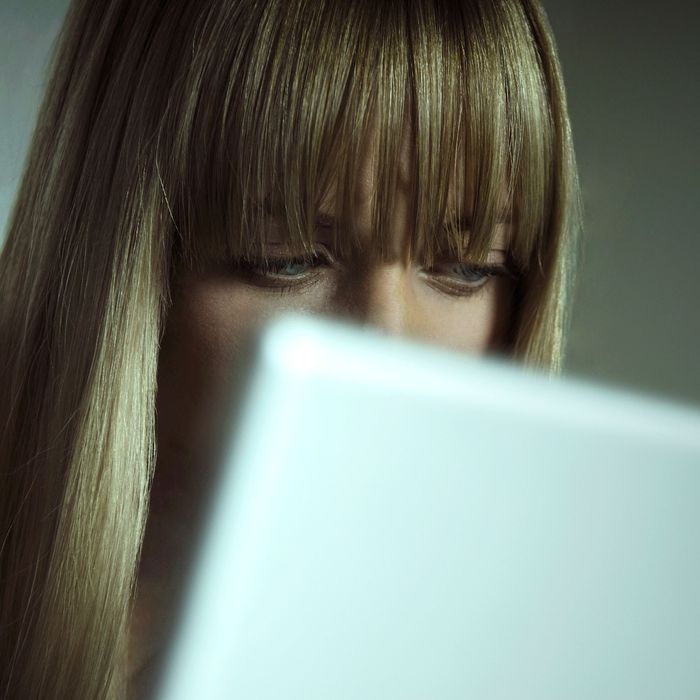 Photo: Gary Edwards/Corbis
On Monday one of the longest-running, reputable industry conferences on technology – South by South West Interactive (SXSW) — chose to cancel two panels on gaming and online harassment, "Level Up: Overcoming Harassment in Games" and a supposedly "pro-Gamergate" panel, "SavePoint: A Discussion on the Gaming Community," because the conference organizers received threats of potential onsite violence.
The threats are not new. It's almost a year to the date since feminist media critic Anita Sarkeesian was forced to cancel a public appearance at Utah State University in Logan because the school's administration had received threats that a potential massacre would occur at the event. Sarkeesian and other campus feminists had been named as targets. Sarkeesian, whose work has covered sexism in the media and extended to criticism of online gaming culture, later tweeted that at least one of the threats had come from someone affiliated with "Gamergate."
The SXSW decision to cancel the panels has been received with controversy — media platforms BuzzFeed and Vox Media have both threatened to withdraw their participation in the conference if SXSW does not reinstate and address the threats. Hugh Forrest from SXSW posted a letter explaining the decision to cancel the panels, citing his desire to "keep the dialogue civil and respectful." He later clarified that the motivation to cancel both panels was concern for the safety of all participants and the conference was "working with local law enforcement to assess the various threats received regarding these sessions." The slide in emphasis between these two statements is significant.
There is no doubt that in the last few years the fear of a public massacre is a legitimate one as we see an uptick in mass shootings. But the solution to these threats is not to cancel programming that may or may not aggravate an anonymous group of people. These menaces are serious, but responding with just what the violent opposition wants sends a toxic message about women and harassment that has far-reaching implications for the experience and safety of women online.
"Canceling the panel sends the unequivocal message that the tactics used to silence women online work," Aminatou Sow, founder of TechLadyMafia, told me over email. "It also implies that there are two sides to this conversation, which is both dangerous and replicates the pattern of the technology industry ignoring systemic online harassment." The conference organizers dealt with threats by removing themselves as targets — women online don't have that option.
Sow, along with Bridget Todd, Rachel Sklar, and Liz Plank, started a petition on Change.org demanding SXSW reinstate the panels. "By saying this decision is part of 'community management,' you are signaling that women are not part of the community worth protecting," they write in the petition.
Harassment of women on the internet has plagued the platform since its inception. Sarkeesian's experience with Gamergate was one of the most highly visible and discussed examples, but women internet users, programmers, and fans alike have received all kinds of threats or harassment, be it in games, in online forums, or even on their own blogs. In 2007,  game developer Kathy Sierra had to cancel a series of public appearances due to threats of violence against her on her own blog. In one instance, someone published a picture of her next to a noose. She said of the incident, "I am afraid to leave my yard, I will never feel the same. I will never be the same."
SXSW's decision to bow to threats of violence legitimizes said violence. It draws a direct line between what women experience online and how they will be treated offline. It also suggests that this experience is logical, even a necessary side effect of taking on "controversial topics" such as sexism and the internet. Gamergate is the peak of longstanding resentments that have flourished against women in online spaces, but it is not the first example of online harassment of women. It can be argued that Gamergate is the result of years of neglecting the stories, realities, and experiences of women online. Similar to rape culture, or the idea that women are "asking for it," the inability for the technology community to adjust and account for the horrendous treatment of women online suggests that some of our market leaders may believe, on some level, this is the natural side effect for daring to show up in these spaces.
In its defense of an open "marketplace of ideas," SXSW adheres to an idea of the internet as a "free space" where a user is able to engage objectively and equally despite their personal identity. Technology and internet enthusiasts have long waxed poetic about the potential for building relationships and reinventing identity online. The impact access to the internet has had on our ability to connect across difference, to communicate, and to innovate is undeniable. But with these new spaces has come the rise of new social mores including a level of acceptability for how women are treated online. The experience of women online has always been a thorn in the side of the idea that the internet is a laissez-faire marketplace of ideas.
SXSW is a conference known to have at least some programming around diversity, culture, and experience. In the over five times I've attended the conference I have spoken on a variety of panels about online feminism, identity and the internet, and even how to deal with comments sections as a woman. As a conference that has been at the forefront of internet culture for over ten years, it has the opportunity to create a space where all voices can truly be safe. If SXSW took a stand, beefed up security, and hosted the panels, it would show a commitment to protecting and including all ideas and perspectives. Imagine going to a tech conference and having to go through the metal detector. That experience alone would make people question why, at a technology conference, even talking about the harassment of women online puts you at risk of violence.