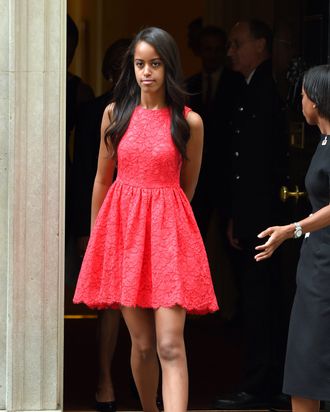 Malia Obama, future campus queen.
Photo: Karwai Tang/WireImage
As more details of Malia Obama's pre-frosh visit to Brown surface, it really sounds like she got the full, authentic College Student Experience: She ate in the dining hall, slept in the dorms, met new friends, and went off campus to get a burrito bowl at Chipotle.
But here's what is revealing: Our collective reactions to seeing our Malia Obama, the child we've watched grow into a teenager, on a college campus. This pretty much exposes how old we all are in our souls. Here's our best guesses for your age, based on how you're feeling about MaBama's collegiate escapades:
"Man, college looks awesome!": roughly 15 years old, without a learner's permit.

"Dude, I totally want to hang out with Malia": 24 and missing college.

"Oh my god, she looks so young!": 29 and missing college and your college metabolism before life ground it to a halt.

"Oh dear lord! Get her away from that young man": 37 and in denial about missing college.

"Her hair looks perfect": Inconclusive, could be any age.
This post has been edited and updated since it was first published.