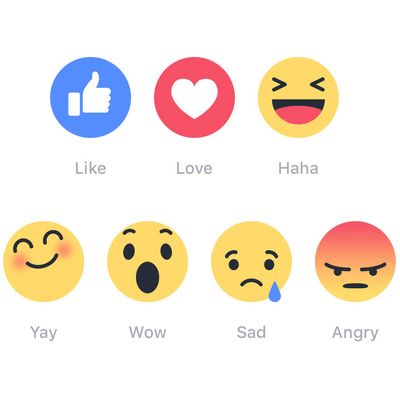 It's always felt weird to hit the "Like" button on certain posts. Even if it's a symbol of support, saying I "like" your 14-paragraph divorce rant — or pet-death announcement, or plea for help after your house burned down — makes it seem like we're all sociopaths.
Last month, Mark Zuckerberg finally addressed the fact that humans have complex emotions churning inside them and hinted that we may get a "Dislike button" or something similar. But the world is not just likes or dislikes, thumbs-ups or thumbs-downs: It exists in shades of gray. So, instead, Facebook announced that in addition to our ability to like, we will soon be able to "Haha," "Wow," "Yay," "Sad," "Angry," or "Love" (via emoji) posts in our news feed, reports the New York Times.

Currently, our six new Facebook emotion options are only being tested in Spain and Ireland. But in advance of the moment when users worldwide can "Angry" a post,  it's important we know how to do it correctly. Here, some preliminary guidelines for expressing emotions about Facebook posts.
Topical Racist, Sexist Diatribes: "Angry," "Sad," "Haha."  

Pregnancy Announcements: "Yay."

Death, Pet Death: "Sad."
Multi-Paragraph Graphic Descriptions of Health Issues: "Wow." "Sad."

Multi-Paragraph Humblebrags: "Haha."

Multi-Paragraph Engagement Stories: "Haha."

Multi-Paragraph Sappy Odes to Baes: "Haha."

Multi-Paragraph Inspirational Quotes: "Haha."
Multi-Paragraph Baby Updates: "Angry." "Wow."

Multi-Paragraph Puppy Updates: "Love."