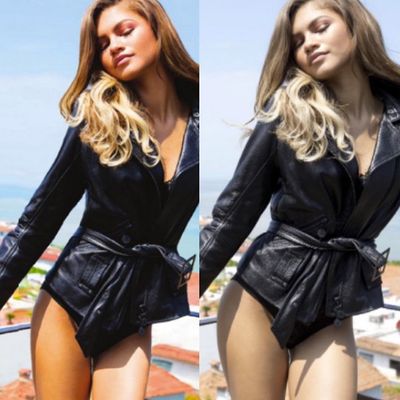 Actress Zendaya went to Puerto Vallarta earlier this month to shoot a cover for Modeliste magazine. The ensuing photo session seemed like it had gone like any other, until she finally saw some of the pics. "Had a new shoot come out today and was shocked when I found my 19 year old hips and torso quite manipulated," she wrote Tuesday night on Instagram, posting a shot in which her already-slender body had been purposefully de-curved and slimmed down. "These are the things that make women self conscious, that create the unrealistic ideals of beauty that we have."
Zendaya explained that she was posting the before-and-after pic (the right one is the real one) because she stands for "honest and pure self love." She also thanked Modeliste for pulling down the images in question and undoing the problematic retouches:
For more on Zendaya's cover, head here. And remember: Never try to pull a fast one on Zendaya, because she's paying attention and will always win.