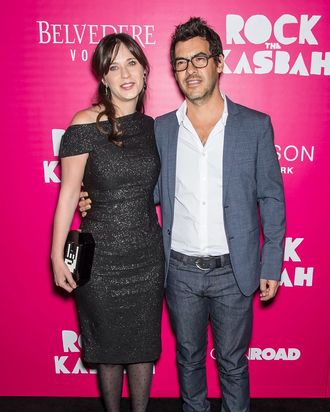 Zooey Deschanel and Jacob Pechenik.
Photo: Gilbert Carrasquillo/Getty Images
At the premiere of Rock the Kasbah on Monday night in New York City, Zooey Deschanel and her husband, Jacob Pechenik, looked beautiful, clean, and fresh-faced, barely a hair out of place, despite being parents of a 3-month old. Unlike ordinary mortals with young children, they have not been drained of even an ounce of their youthful essence — presumably because of nannies, assistants, and also money.
In Deschanel and Pechenik's case, however, it's additionally surprising, because their child is, um, very special. When the couple was asked by People magazine what they'd named their baby girl, here's what they said:
"It's Elsie…" Deschanel began, while Pechenik finished, "Otter." "Like the animal," the actress explained, with her husband adding, "Sea otter."
Sea-otter babies must be taught to forage for snails and clams and to open clamshells by cracking them with rocks that they keep in their pouches. Sea-otter mothers don't just rock their babies to sleep, they wrap themselves in kelp to keep them from drifting away. Sometimes they hold hands in their sleep for this same reason. Mothers (we're talking about Zooey Deschanel here) are known to be obsessive over their otter pups, grooming them for hours until their hair fluffs up.
How Deschanel finds the time to attend movie premieres and look so groomed herself is a mystery. Congratulations to the happy family and their baby marine mammal, Elsie Otter.