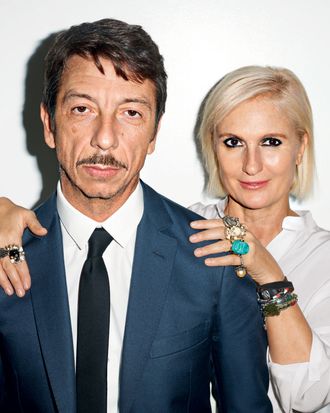 Valentino's Pierpaolo Piccioli and Maria Grazia Chiuri
Photo: Terry Richardson/Courtesy of Valentino
When the first Zoolander film came out, Pierpaolo Piccioli and Maria Grazia Chiuri were just accessory designers in the atelier of the emperor Valentino Garavani, but one afternoon, at their suggestion, the entire team dropped its tools for a trip to the cinema. "Oh," says Chiuri, "we loved it so much." She flashes a bit of "blue steel" and cracks up with a deep, throaty laugh. Last year, when Ben Stiller was getting back into fashion mode for the sequel — Zoolander No. 2, out in February — he called Piccioli and Chiuri, who are now the co–creative directors at the brand, to ask for advice. "If you have socks, you are not fashion," Piccioli told Stiller. "He said why? And I said shush. I said, 'You don't try to understand. You just do not wear socks.'
"And also, if you put your arms into the sleeves of your coat, you are not fashion. Don't ask why. But do not carry your bag anywhere but here." Piccioli folds his arm with his palm face up and points to the crease in his elbow. "If you want to be fashion, these are the rules."
Stiller was grateful for the tips. Ahead of Paris Fashion Week this spring, he asked the designers for permission to storm their runway in full Valentino-for-Zoolander mufti. And then he and Owen Wilson walked, each with expressions of utter solemnity, the unfilled sleeves of their trench coats flapping in the breeze. "We didn't tell anyone," Chiuri says, "but, oh my God, we were laughing so hard. No one knew what was going on. It was such a moment of freedom." She leans in to deliver the moral with a flourish of intimacy. "Look, you can work very seriously without being too serious."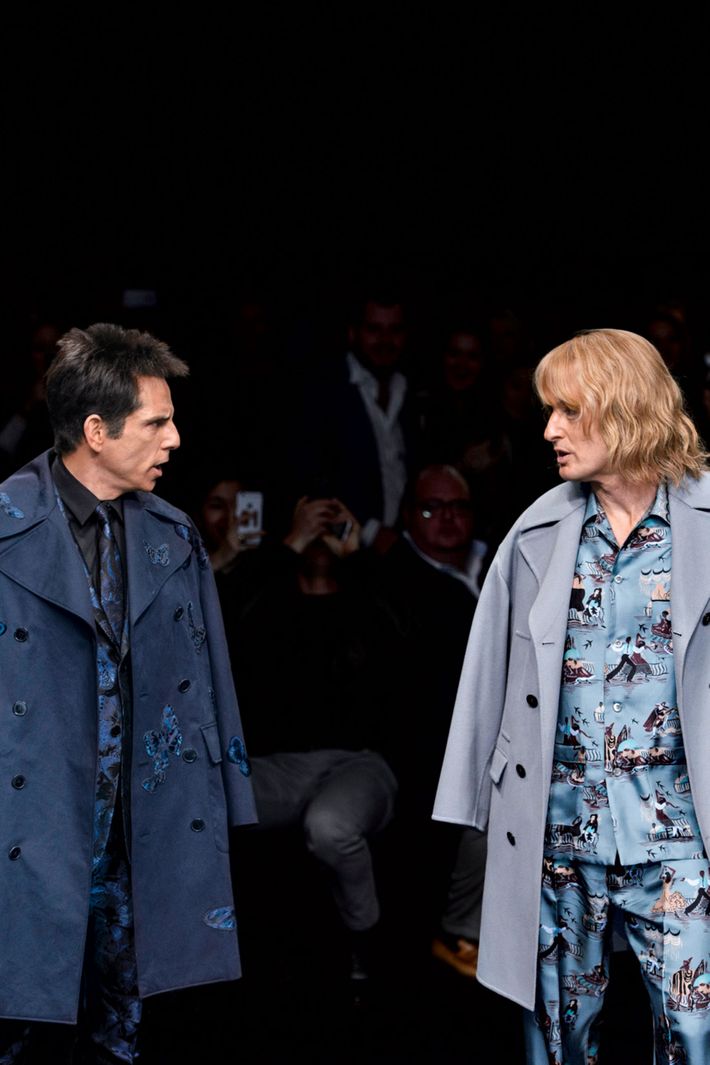 But to see them breakfasting at the Pierre hotel is to know, immediately, that these are pretty serious fashion people. He is small and wiry, with spiky hair and a prominent Roman nose — he looks like a walking fashion sketch. He wore a trench coat with sharp lapels, a pair of angular sunglasses, and a leather tote, the kind that American men have no idea how to handle and wind up calling ridiculous things like murse. Chiuri's hair is platinum blonde, and each of her fingers is covered in a large, dramatic ring: snakes, stones. Her ring collection was stolen from her house a few years ago; these are replacements, so she loves them but knows not to care about them too much. "They are just things," she says dismissively.
So: They are fashion creatures, yes. But they insist that back home, they lead what are fairly conventional, bourgeois Roman lives — all day in a big shared office, and at night each going home to a (separate) married life with spouses and kids who have varying degrees of interest (zero to some) in what their parent does. "With the children, you really have to stop and go into their world," Piccioli says. "My daughter, she says, 'I don't really like what you do with Pierpaolo,' " Chiuri says, "But then, of course, she says, 'May I borrow your dress?' "
It would be hard to name designers more influential, and successful, at this very moment. Under their direction, Valentino has strut to 20 percent growth in each of the past five years, and in 2015, for the first time, the house expects revenues to reach $1 billion.
It's been a difficult time for matching big designers and big fashion houses: Alexander Wang's contract with Balenciaga was not renewed after three years of tepid reviews; Raf Simons was onto something at Dior but resigned last month; most recently, Alber Elbaz left Lanvin after a dispute with the label's new owner. Piccioli and Chiuri are a bit of a different case in that they came up within Valentino — in fact, they are sort of creatures of Valentino who enjoy a warm, mutually supportive relationship with him.
But since their first line, Valentino has also gotten more subversive. There is beautiful lace and spectacular color (they will still usually offer a sexy red dress), but Chiuri and Piccioli also pull ideas from traditional Roman art. Necklines can be prim. Silhouettes are often modest. And, simultaneously, they have written themselves a position in accessories lore with the less-high-but-still-really-expensive Rockstud line, which puts those unmistakable signature studs on everything that will take them. "Valentino was a very known landscape," Piccioli says. "It was the glamour, the beauty, the perfection. But, of course, ideas of beauty change over time, and perhaps what we have done is take a picture of the same landscape from a different angle. Perhaps we have shown the deepness of that kind of beauty."
"Everybody paints the same Madonna," Chiuri says, "but there is a big difference between Caravaggio and somebody else."
That's about as theoretical as they'll get on the subject of their own success — they are gnomic fashion people, after all, and, typically, a bit oblique. But they also seem consumed by the punishing new fashion calendar. "We used to have six months to design a collection. There was winter and summer," says Chiuri. She laughs at the quaintness of it all. "Can you imagine if a writer had to write a best seller several times a year?"
"Look," Piccioli says, "of course we would like to have more time. But I really love my job. I love it."
"If you are a director, your responsibility is to the stores," Chiuri says. "We have to do the campaigns, we have to work on our image."
And with that, the designers gather their things and head for the door, looking, from behind, not unlike their Zoolander heroes — off to save the world, armed only with their fashion.
*This article appears in the November 30, 2015 issue of New York Magazine.