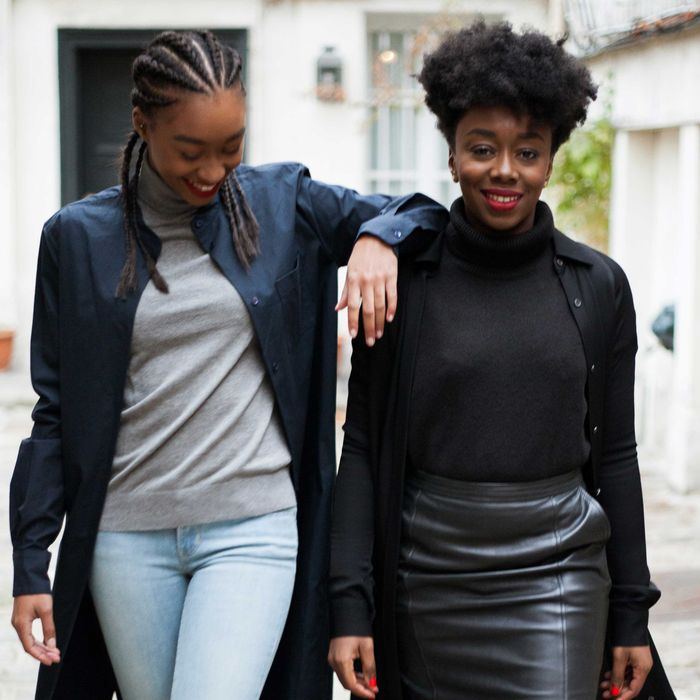 Looking effortlessly chic is tough enough when it's summer and all you need to do is throw on a pair of cut-offs. It's infinitely more difficult when you're also attempting to stay warm. How do you wrangle five different pieces without looking like you're trying too hard? Below, two Parisienne friends of the Cut, communications student Tiphaine Guéret and beauty consultant Fatou N'Diaye, demonstrate six tips and tricks for non-bulky layering.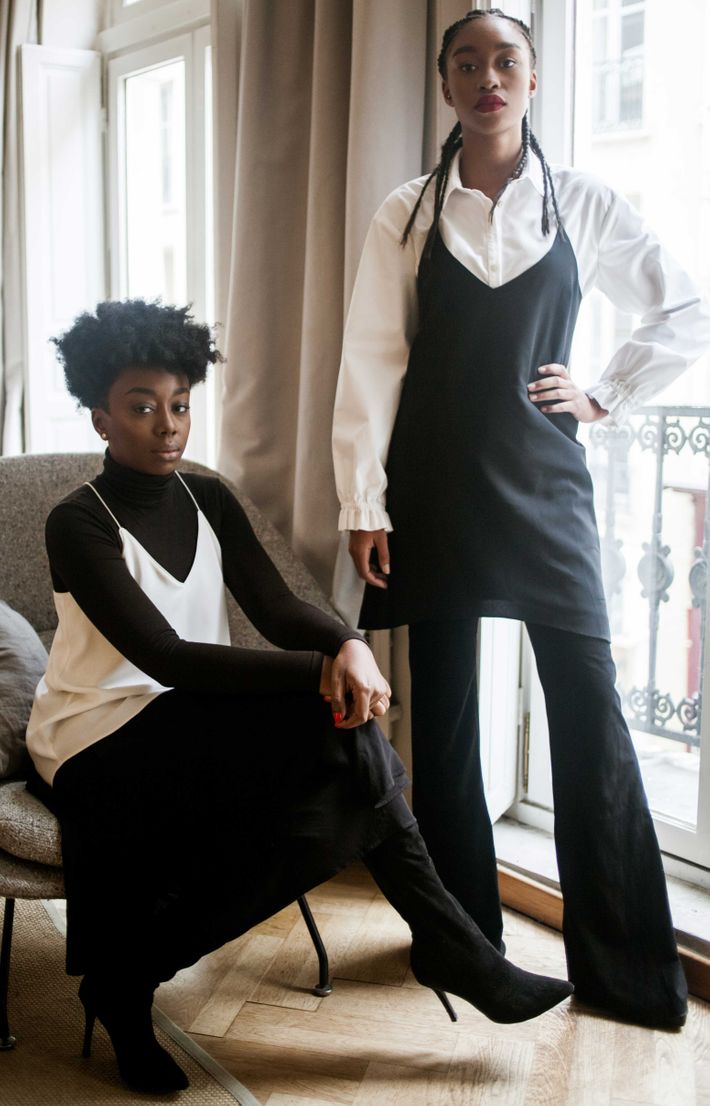 Layer #1: A Slinky Camisole
Camisoles are usually one of the first things to be packed away come winter, but if you have the right shirt to wear underneath, you can wear yours well past Thanksgiving. Take inspiration from Céline and drap a longer camisole over a white button-down shirt, or a shorter version over a thermal turtleneck.
Left: Free People Skirt, $69 at Free People, Wolford Bodysuit, $260 at Wolford, AYR Cami, $165 at AYR, H&M Boots, $59 at H&M; Right: Rachel Zoe Pants, $477 at Shopbop, AYR Cami, $147 at AYR, Similar Suno Shirt, $395 at Suno.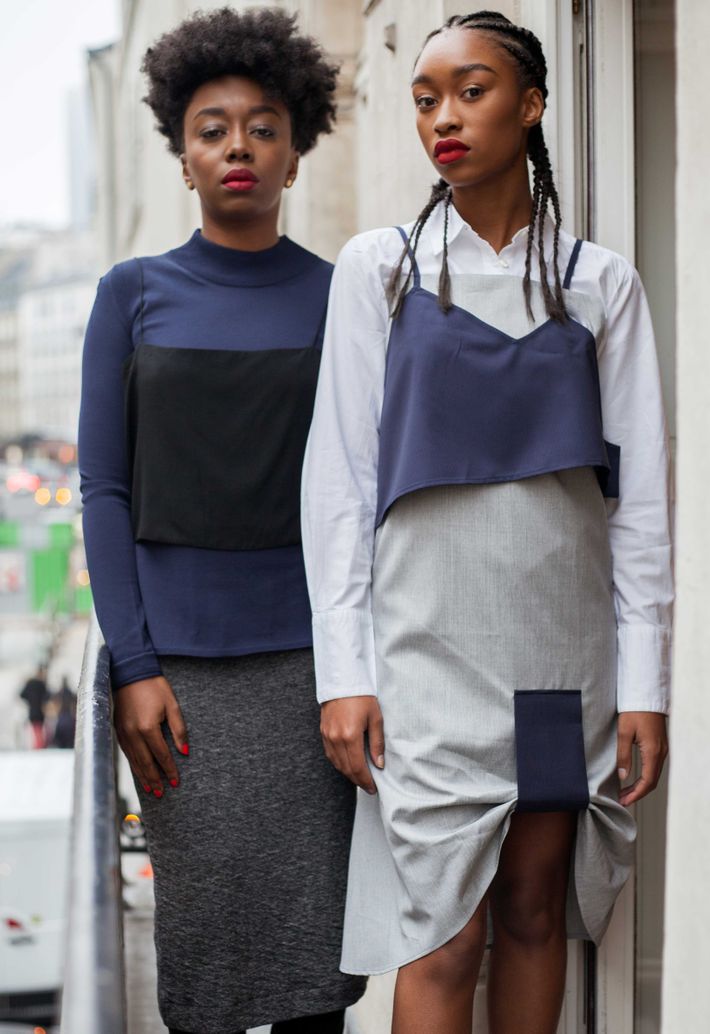 Layer #2: A Crop Top or Bralet
This look is all about the fit of your top layer. A tight crop top over a thermal shirt can be a bit too editorial for everday wear, so go for a looser bralet style. To avoid bunching, wear it over a dress or smooth turtleneck.
Right: Jacquemes Two-Piece Dress, $395 at Shopbop, LOFT shirt, $54 at LOFT, Similar Giuseppe Zanotti Boots, $925 at Stylebop,  LOFT shirt, $34 at LOFT; Left: Brock Collection Sweater, $650 at Farfetch, Madewell Skirt, $78 at Madewell, Ji Oh Top, Price Upon Request, Ji Oh,  H&M Boots, $59 at H&M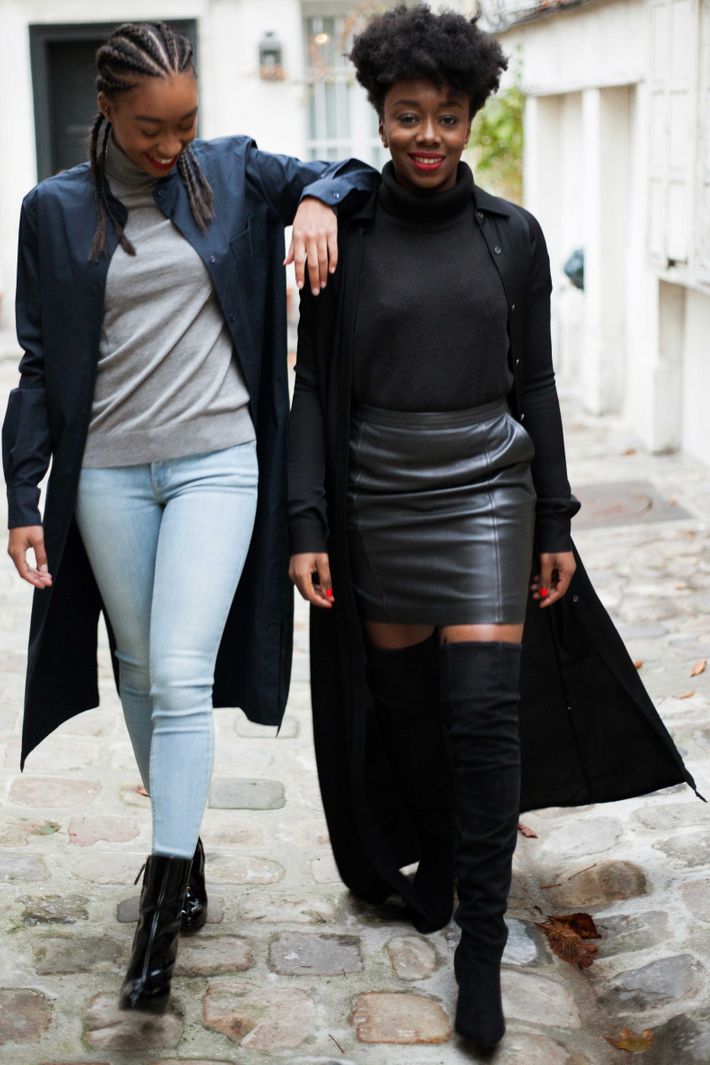 Layer #3: A Long Tunic Dress
Just because you bought it as a dress doesn't mean you can't repurpose it as a duster. This Theory dress (right) is 100% silk, so it's not exactly warm, even if you add tights. Instead, unbutton it and wear it as a fluid, fluttery layer over a sweater, skirt, and boots. If you prefer a more casual vibe, take note of this Joseph tunic (left) over a simple sweater and jeans.
Left: Levi Jeans, $49 at Levi Jeans, Massimo Dutti Turtleneck, $69 at Massimo Dutti, Similar Giuseppe Zanotti Boots, $925 at Stylebop, Similar Joseph Tunic, $715 at Net-A-Porter; Right: Massimo Dutti Skirt, $225 at Massimo Dutti, Gap Turtleneck, $59 at Gap,  H&M Boots, $59 at H&M, Theory Dress, $495 at Theory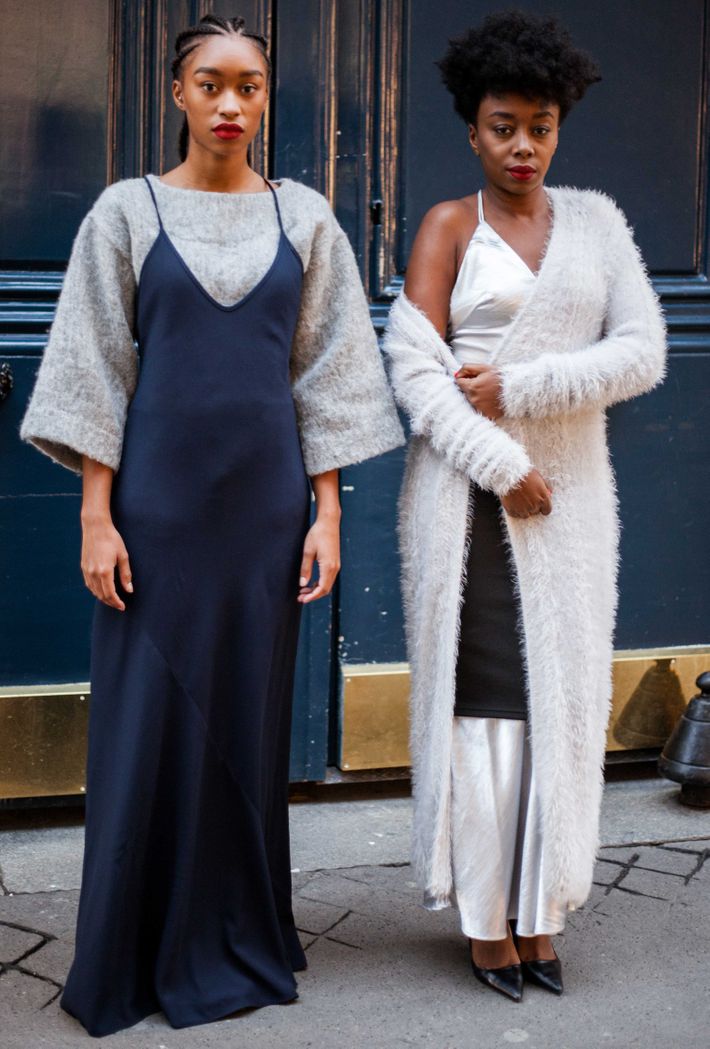 Layer #4: A Sexy Slip Dress
Yes, you can layer for evening, too. Try wearing a slinky slip dress over a structured sweater like this one from Elizabeth Suzann (left), or under a long cardigan like this one from Kaelen (right). If you're daring, try adding a skin-tight tube skirt over the dress.
Left: Elizabeth Suzann Sweater, $260 at Elizabeth Suzann, AYR slip dress, $219 at AYR; Right: H&M Slip Dress, $50 at H&M, Topshop Skirt, $40 at Topshop, Kaelen Sweater Coat, $710 at Kaelen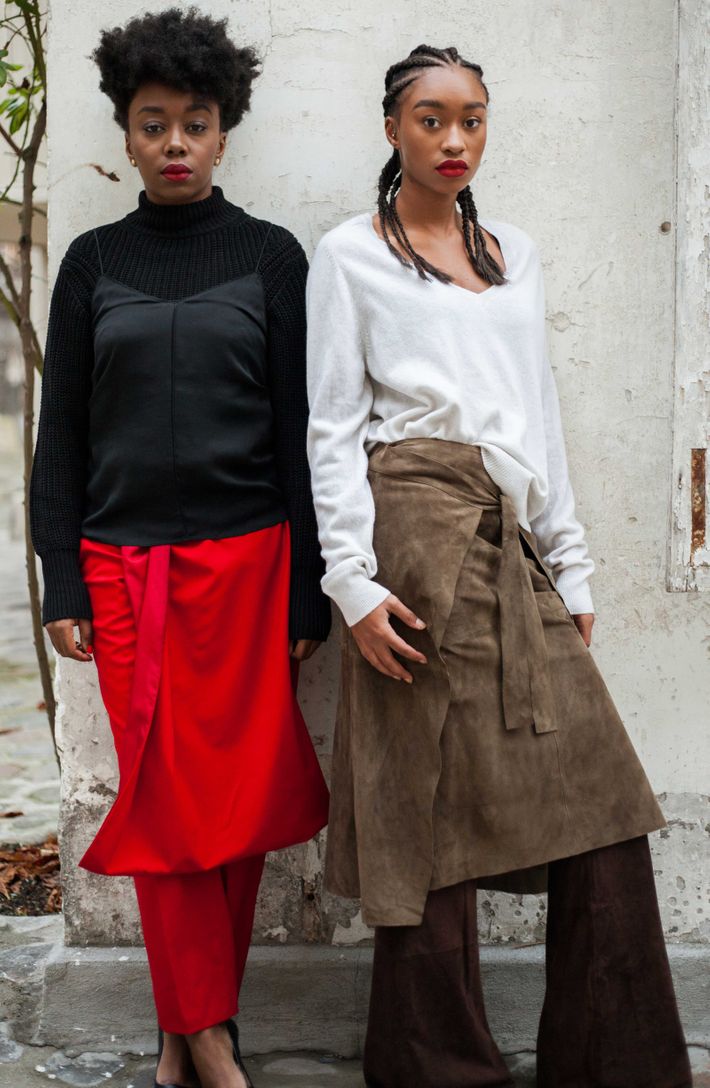 Layer #5: A Knee-Length Skirt
Is the skirt-over-pants look for everyone? Absolutely not — but there are plenty of ways to try it without looking crazy. The Harbison pants (left) have a detachable top so you can customize how arty you want your bottom half to look. If you really want to take a risk, try playing with texture and color. This neutral sweater works tucked into a suede wrap skirt over suede flared pants because the colors and feels all complement each other.
Right: Harbison Pants, Price Upon Request, Harbisoncollection.com, AYR Cami, $147 at AYR, American Apparel Sweater, $85 at American Apparel; Left: Rachel Zoe Pants, $477 at Shopbop, Joseph Skirt, $1,345 at Joseph, AYR Sweater, $250 at AYR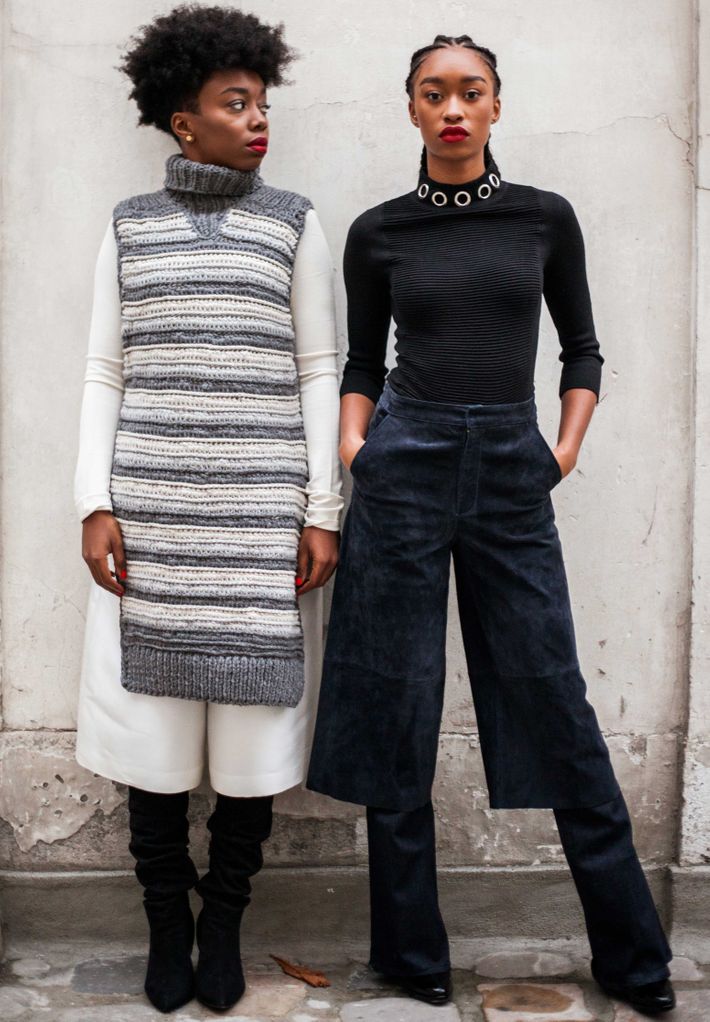 Layer #6: Culottes 
Culottes in winter — we know, it sounds complicated, but hear us out. You probably jumped on the culotte trend this summer, meaning you already own the key ingredient. Just add a chunky sleeveless sweater like this one from Wes Gordom (left), a turtleneck underneath, and knee length boots, and voila: Warm and so French. If you want to try the culotte-over-pant look without a lot of unflattering bunching around your midsection, the key to making the layers lay flat is to mix your materials right. These Zara suede culottes (right) work well over 3x1 jeans because they're thinly lined so there's no bulge.
Left: Aritzia Sweater, $50 at Aritzia,  Wes Gordon Sweater, $990 at Moda Operandi, Similar Suno Culottes, $198 at The Outnet, H&M Boots, $59 at H&M; Right: ASOS Sweater, $32 at ASOS, 3x1 Jeans, $195 at 3x1, Zara Suede Culottes, $129 at Zara
Photographs by Andre D. Wagner. Styling by Lindsay R. Peoples. Location Provided by Airbnb.