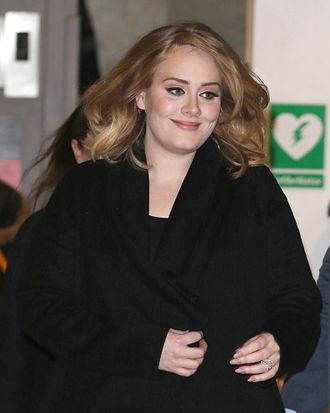 Adele.
Photo: Neil Mockford/Alex Huckle/2015 GC Images
While Adele has written numerous ballads about one particularly heartbreaking ex who dumped her at some point before 2010, she's still not quite done with him. "This is my fuck-you song," Adele said of her new album's first single, "Hello."
In a profile for The Guardian, Tom Lamont hung out with the singer for the first time since he followed her on a whirlwind trip to New York in 2011 just as "Someone Like You" was heating up. In the intervening years, Adele won approximately a million awards; met her current boyfriend, Simon "my man" Konecki; gave birth to their son; and then stayed mostly out of the spotlight. Still, 25 picks up where 21 left off — that dastardly ex.
"My love is deep and true with my man," she said, adding "that puts me in a position where I can finally reach out a hand to the ex. Let him know I'm over it."
But is it difficult to publicly ruminate about a years-old ex while dating someone new? Apparently not for Adele. Another song on the soon-to-be-released 25 is called "I Miss You." Asked what her boyfriend thinks of a song about an ex she's definitely, positively, (maybe not?) entirely over, she said, "My man is loyal. My man is strong. So we spoke early on, and he said, 'Your writing isn't anything to do with me.' He's fine with it."
Though the duo has been dogged by rumors of a breakup since 2014, Adele reported they're still together: "Yes, yes, yes, yes, yes. And very happy."