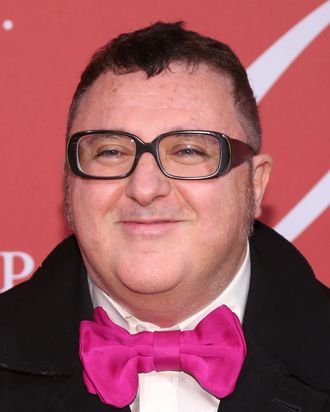 Alber Elbaz.
Photo: Taylor Hill/Getty Images
Social-media-averse Alber Elbaz appears to have had a change of heart. The ex-Lanvin designer has activated his Instagram account, thanks to what appears to be some prodding from Eva Chen. Instagram's head of fashion partnerships announced the news on her account, writing, "he already has his fish gape/duck face ready!!" Elbaz has already posted a shot-from-above selfie, so he's clearly accustomed to the medium.
Elbaz's feelings toward social media weren't always so rosy. At last month's FGI Night of Stars, he said he didn't have his own account, though he admitted to lurking on others'. He said, "I don't really have photogenic friends, I only have good friends. And I also don't take photos of the food. I eat food. But I'm addicted to Instagram. I love it. And I just met Kevin, the founder of Instagram, and I love him for being so smart. Not just smart, but humble. And that's a nice combination."
But a lot has changed since he gave that speech, to say the least. On his debut post, he said, "this past 2 wks made me realize how many AMAZING friends+supporters I have….And YES,they are all 'photogenic'…because they are all BEAUTIFUL 'inside-out'." We can't "like" this fast enough.