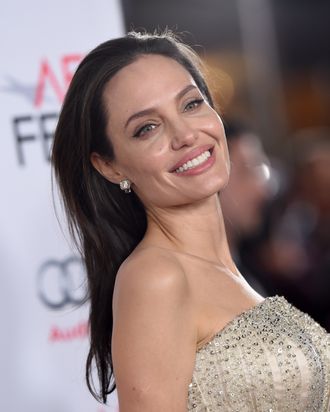 Photo: Axelle/Bauer-Griffin/Axelle/Bauer-Griffin
Menopause has met its match. "I actually love being in menopause," Angelina Jolie-Pitt told the Daily Telegraph, surprising women everywhere. The star said she's "very fortunate" that her experience of menopause hasn't been too bad.
"I feel older, and I feel settled being older. I feel happy that I've grown up," she said. "I don't want to be young again."
Jolie-Pitt had her ovaries and fallopian tubes removed after a cancer scare this spring. In 2013, Jolie underwent a double mastectomy, but her most recent surgery is one that "puts women into a forced menopause," she wrote in a New York Times op-ed publicly announcing her decision.
Pitt helped her overcome the physical changes the surgery had wrought.
"[Brad] made it very, very clear to me that what he loved and what was a woman to him was somebody who was smart, and capable, and cared about her family, that it's not about your physical body."
While she may well be the first Hollywood star to welcome aging, her career shows no signs of slowing down. By the Sea comes out this week; it was written and directed by Jolie-Pitt. It also marks the first film Angie and Brad have starred in together since they fell in love in 2005 on the set of Mr. & Mrs. Smith.
So, how is it doing a sex scene with your husband? "I prefer them!" she said. "But it's awkward that there are so many people around, and you know what? It's awkward to direct them."
As for getting naked herself, Jolie-Pitt contemplated cutting some of the film's topless scenes. The movie was written before her mastectomy and she wasn't sure if she wanted to bare her chest. "But I felt that was the wrong thing to do," she told People. "That's hiding something, and I just don't believe in that."