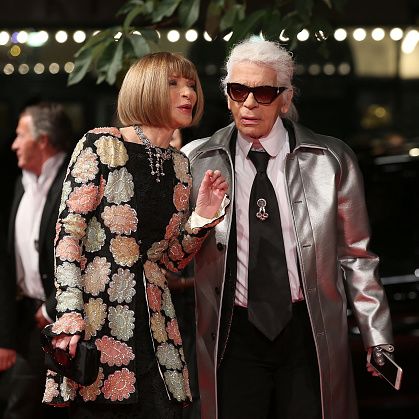 The enduring friendship of two people who rarely smile in public is actually rather sweet. At the British Fashion Awards on Monday night, Anna Wintour presented Karl Lagerfeld with the Outstanding Achievement Award and detailed their friendship.
"Karl and I have shared many extraordinary moments over the years, and I'd gladly share a few of them with you, if it weren't for the fact that Karl, of all people, would be horrified," she said, kicking off the speech.
Thankfully, she disregarded Lagerfeld's feelings to share some memories. On the first Saturday night of Paris Fashion Week, they have a longstanding dinner date tradition. Together, they discuss "everything other than fashion."
Their friendship extends beyond fashion week—once he even built her a tennis court on his property on the French coast to get her to visit. "Needless to say this was the first and surely the last time anyone has constructed sporting turf in my honor, but Karl was trying to give me somewhere I could feel at home, a place where I could be myself," she said. "That's what his clothing does for millions of women each day, so I suppose that generosity should not have surprised me."
For her next trick, Wintour would like to be reincarnated as his cat. "I have often thought that in my next life, I would like to come back as Choupette, his extremely beautiful and bourgeois cat, who has two maids, a chef, a personal hairdresser and many diamond necklaces," she said.