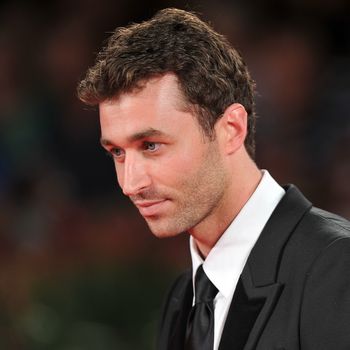 Photo: Stefania D'Alessandro/2013 Stefania D'Alessandro
Hours after James Deen denied the rape allegations made by his ex Stoya, two more women came forward with a similar claim. In an essay published on the Daily Beast, former adult performer Tori Lux described an assault that took place on a porn shoot in 2011.
According to Lux, Deen got aggressive with her after she finished her shoot. (He was on set, but not filming with her that day.)
"I hadn't even had time to dress myself when he said, with a smirk on his face, 'Tori Lux, would you like to sniff my testicles?' 'Nope,' I replied in a neutral tone. 'I'll repeat myself: Tori Lux, would you like to sniff my testicles?' he asked, more aggressively this time. I replied with a firm 'No,' in order to establish my boundary—which James then disregarded by grabbing me by the throat and shoving me down onto a mattress on the floor.

He proceeded to straddle my chest, pinning down my arms with his knees. Then, he raised his hand high above his head, swinging it down and hitting me in the face and head with an open palm. He did this five or six times—hard—before finally getting off of me."
Lux alleged that she stood up after the initial attack, before being grabbed again by Deen. He then "shoved me to my knees, forcing my face into his crotch several times before shoving me to the floor," she wrote. According to Lux, there were witnesses on the set, but no one intervened. She declined to pursue police assistance because of a widely held assumption about sex workers. People generally, and police specifically, "tend to believe that sex workers have placed themselves in harm's way, and therefore can't be assaulted," she wrote.
A few hours later, the Daily Beast followed up on her essay, asking "James Deen, the Bill Cosby of Porn?" when Ashley Fires, another adult actress, came forward with her own allegations of assault. She says that Deen is the only performer she refuses to work with:
"The reason I put him on my 'no list' was because he almost raped me," said Fires. "The only time I'd ever seen this guy, he walked into the green room at Kink [studios], picks up Jessie Cox like a caveman, grabs her by the hair, and takes her off somewhere… and I can only imagine."

"Later on that night, I was getting out of the shower of the communal bathroom at Kink, I reach for my towel to dry off, and he comes up from behind me and pushes himself and his erection into my butt," she continued. "He pushes me against the sink and starts grabbing on me and I was like, 'No, no, no James, no,' and he released me from his grasp, and says, 'You know, later if you want to fuck around I'm in room whatever-it-was. I was like, 'Fuck you.' I didn't even know this guy, he was so out of line and entitled with my body."
A year or so after the incident, Fires says, Deen ordered her to "stop telling people about it." She says she had to defend her decision not to work with him to others within the business, and that Deen suggested she should claim that he reminded her of her brother.
It seems that others in the industry have been looking to avoid Deen, too: Actress Sydney Leathers told the Daily Beast that Joanna Angel, an actress who's voiced her support for Stoya, "told me when I first got into the business that I should avoid him — that he has boundary issues, basically that he tries to break women."
They're no longer the only ones refusing to work with Deen: His most frequent employers have now taken a stand, too. Kink.com, the U.S.'s most prominent BDSM producer (and which has made hundreds of films with Deen), announced on Monday that it has cut ties with him because "consent is sacrosanct." The Frisky ended its What Would James Deen Do? column as well, and the ads linking back to his site on the published columns should be gone later today.