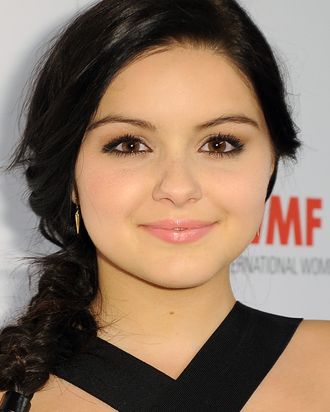 Ariel Winter.
Photo: Joshua Blanchard/2015 Getty Images
Ariel Winter's Instagram turned into a divisive forum for body-image-shamers and advocates this weekend, after the Modern Family star uploaded an innocent shot of her and her nieces on a boat. The pic in question attracted trolls who reportedly said the 17-year-old was "asking for it" and that she should "put some clothes on" because she was wearing a bikini. At the time of publication, Winter's upload had more than 55,000 likes and 1,000 comments:

Many of Winter's fans came to her defense in the comment thread, but the actress served up her own empowering rebuttal shortly thereafter, telling girls to celebrate who they are and not to be ashamed of what they wear. Read her response in full, below:
Who knew that an innocent photo with my nieces would turn into this? The height of a girl's skirt or whatever she is wearing for that matter, does not imply what she is asking for. It sickens me to think at 17 years old, a photo of myself with my nieces is suggesting that I'm "asking for it". I typically never give power to the mean things people bravely say behind their computer screens on the Internet, but this is for the girls who are constantly bullied whether it be online or at school.. You are not asking for anything because of what you are wearing- you are expressing yourself and don't you ever think you deserve the negativity as the consequence to what you are wearing- YOU ARE BEAUTIFUL. Celebrate you and don't let anyone's comments allow you to think less of yourself. Us girls have to stick together!!!!!!
And, mic drop.