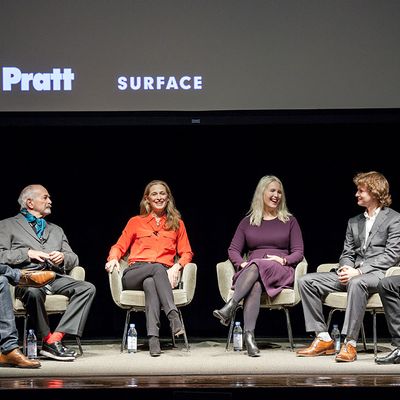 Spencer Bailey, Arthur Elgort, Grethe Barrett Holby, Sophie Elgort, Warren Elgort, and Ansel Elgort.
Photo: Institutional Advancement | Creative Services/©Pratt
Accounting for all of the immediate Elgort family requires going through a sort of culture roll call, which, depending on your age and interests, starts with either Arthur or Ansel: the former an acclaimed fashion photographer, and the latter his youngest son, the teen heartthrob from The Fault in Our Stars. Then there's Warren, the curly-haired older brother who's a film writer and director; Sophie, also a fashion photographer; and their mother, Grethe Barrett Holby, a producer who works mostly in opera. 
They all gathered for a panel at Pratt Institute on Tuesday night to talk about family life and their creative pursuits with Spencer Bailey, editor-in-chief of Surface magazine. Since each of them lives in New York City, they still hang out and keep tabs on each other, Ansel told the Cut, and sometimes they even collaborate. "I want to work with my brother, and I'm working with my sister on a shoot tomorrow," he said.
"I go to Knicks games with Ansel, and we'll play basketball or ping pong or video games," Warren added.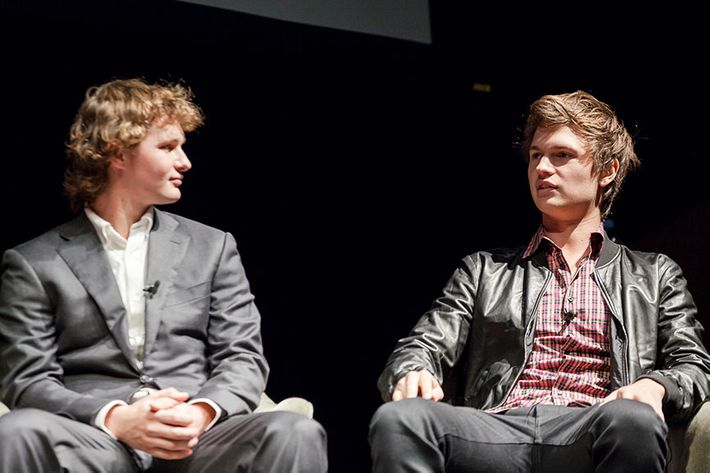 All of which sounds pretty normal for siblings — except that their family has a combined social media following of over six million. Following an audience question from a Twitter user called Nadine, Ansel immediately jumped in: "From the Philippines, yeah, she tweets me like a thousand times a day." If the hordes of students waiting outside afterwards and scheming to steal his water bottle are any indication, Ansel has probably surpassed his father in terms of fame, but they all still love to tease him: "He asks for money all the time," Arthur said. "He likes his Chipotle."
He wasn't surprised his children ended up famous, and "especially Ansel. I felt it right away," he told the Cut. His son's big break came at theater camp when an agent picked him out not because of his talent, but because she thought it was funny his underwear was hanging out of a rip in his pants. Ansel's switch from theater to film may seem natural for someone who grew up constantly under his father's lens, except that he's "not really comfortable in front of the camera. It's still a nerve-racking thing to have a camera in front of your face," he said. (Arthur, who was sitting with one on his lap, seemed surprised.)
Growing up, though, "that's just what we did," Sophie added. "Sometimes he didn't even tell you and would just start clicking. Like at the breakfast table, the basket of napkins also had cameras in it." He'd photograph them eating cereal, and even surprised Warren a few times in the bathroom — again, totally normal for a parent. Except his photo of Warren's two-year-old butt ended up in a J.Crew catalog.