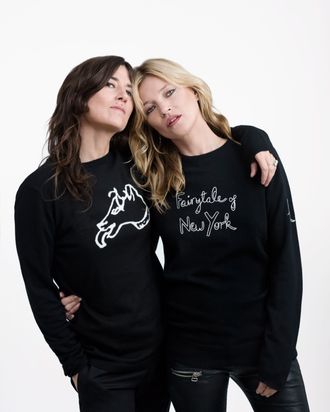 Bella Freud and Kate Moss
Photo: Rainbow Wave Ltd.
Twelve years ago, Kate Moss popped into the now-shuttered London boutique Zoltar the Magnificent and bought a Bella Freud sweater embroidered with the slogan "Ginsberg is God." It had a ripple effect beyond what the designer could have imagined. "She was photographed wearing it [and] it was suddenly, 'Oh, she's wearing it — you've made it! Great!" she recalls. Soon, customers from all around the world were, quite literally, beating down her door. "I remember one young woman ringing on the bell who couldn't speak English at all — I think she was Argentinian — and all she could say was 'Kate Moss.'"

Of course, Freud had been designing for years before that moment, and Moss had walked her runway plenty of times. Since then, she's had many street-style hits — Alexa Chung, Johnny Depp, and Alison Mosshart have worn her designs — but none so potent as that first Kate Moss endorsement. Now, Freud, who remains good friends with the supermodel, has teamed up with her on a holiday sweater to be sold exclusively at Matches, benefiting Save the Children. The design is a tribute to the Pogues's Christmas song  "Fairytale of New York." "[Kate] came up with the idea of the song title of the Pogues song "Fairytale of New York" and then I drew it out and designed how it would be written. We're both friendly with Shane McGowan, and she was able to ask if we could use that." (The perks of having Kate Moss as your collaborator!)
It was important for the design to not feel kitschy, despite its associations. "The original idea of a Christmas jumper is something someone gives you that you wear on Christmas Day and then never ever wear it again, because it's so horrible," Freud admits. "But actually, this one is great, and you can wear it anytime, and it's cool." And, she laughs, "Kate wouldn't wear something uncool."
It's not the only project Freud has on the boil. Next month, she is opening her first shop, in Marylebone, one of London's buzziest neighborhoods — Andre Balazs's Chiltern Firehouse is "just up the road," she notes. The area has "quite a village-y kind of feeling about it — quite cozy." The store will sell books and records, as well; Freud is an avid fan of music, from punk to reggae. Freud is also set to release a new fragrance (she has four already) and votive candle in February, has an ongoing collaboration with British athleisure brand Fred Perry, and just collaborated with hip-hop godfathers The Last Poets on a logo sweater, which is coming out next month.
Since she has also made short films, and was one of the first designers to embrace the "fashion film" concept, I ask her if directing a feature à la Tom Ford is next on her to-do list. "It seems like a big leap," she says, after some consideration. "But I like the idea of not ruling things out."

Freud answered our Taste Test to gauge some of her fashion and pop-culture preferences.
What was your first version of a  Christmas sweater?
A navy-blue micromini dress with white collar and cuffs.
Do you have a favorite sweater slogan, from the many you've done?
The ones I can't help loving the most are "Ginsberg is God" and "The Last Poets."
You're opening a store in Marylebone — what are some of your favorite spots in the neighborhood?
I love the Monocle Cafe, where you can get the strongest black coffee and a Japanese breakfast - some of my favorite things on earth. One of the best fashion boutiques, Matches, has a store in Marylebone High Street next to another great shop, Daunt Books.
Jane Birkin or Brigitte Bardot?
The world is a richer place with both of them.
Corner pub or private club, for an evening out?
Mark's Club in Mayfair has recently been revamped but it still has its old school English charm and feeling of luxury.
Kim Gordon or Debbie Harry?
Are you trying to kill me? They are both women to worship and be in awe of.
Your five desert-island records?
Nick Cave, Push the Sky Away
Miles Davis, Kind of Blue
Bob Dylan and Johnny Cash, Nashville Skyline
The Gladiators, Arise
The Last Poets, Delights of the Garden