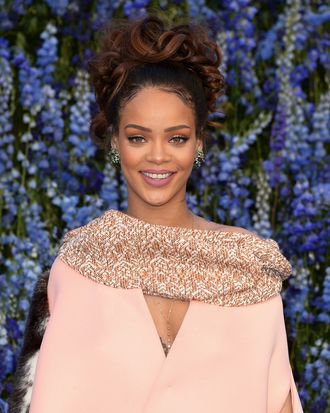 Rihanna.
Photo: Stephane Cardinale/Corbis
Rihanna, a very beautiful human, just launched a company to help other people look very beautiful. The Hollywood Reporter explains that a Los Angeles–based beauty agency called Fr8me is the singer's latest business venture outside the music world.
Fr8me will connect hairstylists, makeup artists, and fashion stylists with opportunities found in the commercial, editorial, event, and ad-campaign landscape. A handful of talent is already on tap, including Mylah Morales, Rihanna's longtime makeup artist, and Jason Bolden, stylist to Taraji P. Henson.
Speaking to the magazine, Rihanna explained what drove her humane mission to make the world look less drab: "[It] was an organic thing for me to do."
Sounds about right.