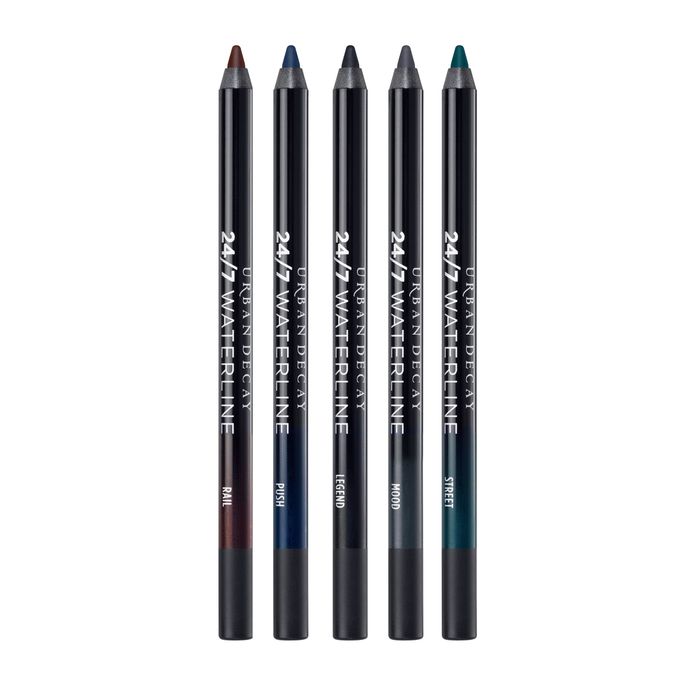 I've always felt a kindred connection with the promo posters for Black Swan. Natalie Portman's red eyes are two beacons of wrath that I see in my own face when I wake up needing more rest, when I accidentally sleep in my contacts, and most often, when I wear eyeliner along the inner rim of my eyes. No matter how expensive or fancy the formula, eyeliner along my waterline irritates my eyes more than anything. For a while, I gave in to the idea that a steady stream of Visine was my sole solution, until an innovative product landed on my desk a few months ago.
Urban Decay's Waterline is a waterproof pencil eyeliner specifically formulated to line the inner rim of eyes, in a beauty technique called "waterlining." Unlike traditional eyeliners, where a creamy, smooth glide reigns supreme, Waterline is matte and slightly harder to maneuver, but promises to stay put and not irritate finicky eyeballs. The liners come in five colors, from a moody purple to a deep black, and are made from a compound of synthetic waxes. The good news is that true to Urban Decay's claims, the liners won't migrate into eyeballs. It takes a minute or so for the liner to set and fully dry, but once it does, nothing short of a heavy-duty eye-makeup remover can wipe away Waterline.
Though Waterline is tremendously effective, it's far from perfect. For one, the formula applies relatively sheer, and requires more than one coat for an intensely pigmented showing. It doesn't glide with the same ease as a gel or luxurious liner, but it's a user-experience sacrifice that pays in dividends in terms of longevity and non-irritation. The bottom line is that Waterline works, which is great, because I'd much rather watch Black Swan on the screen than feel like I'm becoming one in real life.
Urban Decay's Waterline Eye Pencil, $20 at Sephora.