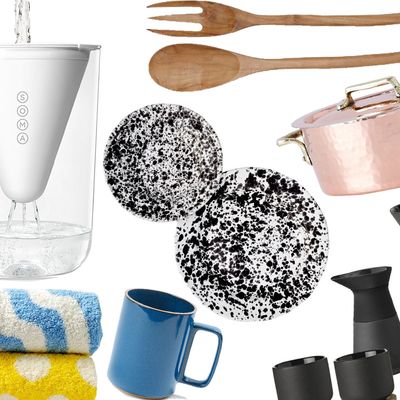 What do you give the person in your life who spends their time drooling over plates, throws, and perfectly designed spaces? The Cut has compiled a list of home items chic enough to make any décor obsessive happy. From crisp new sheets to the sleekest water pitcher to a luxurious copper dish, here are 19 ideas that are guaranteed to please.
The person who loves to throw raucous get-togethers can never have enough glassware. These smoky glasses have an interesting shape and are inexpensive enough to gift as a set of four.
Know someone who's just starting to get into cooking? Gift them this beautiful knife set, complete with a wooden block for storage. Maybe add a few Band-Aids — just in case.
Splatter-print enamel plates not only look cool in pictures but also happen to be tough enough to last for years.
Even if you don't stick a candle in this candlestick, it is an inexpensive way to decorate a table.
The best gifts are cozy ones that you know the person will use day-in, day-out, like this ultra-soft, warm throw blanket.
Coffee snobs always prefer a good pour-over cup to your standard machine brew. This set is a stylish upgrade of the standard white-porcelain options.
For the woman who has a 12-step nightly skin-care routine.
Ecofriendly, colorful, and inexpensive enough to give to anyone on your list.
Technically this is a candy dish, but how many people can keep a tray full of sweets without eating them all? Instead, use this vessel to store cotton balls, jewelry, or other tiny knickknacks that clutter up a space.
Even if you don't know your wines, serving them in an elegant decanter will make it appear like you do.
There's something about Japanese porcelain that makes it seem more special than your standard factory fare. Give this to your work wife who can't get through the morning without two cups of coffee.
Note: This mug is also available in a tan color at Spring for $20.
Yes, this 19th-century copper pot is a splurge, but consider it the first step in amassing a beautiful collection of cookware.
It's weird to think of a water pitcher as stylish, but the Soma is exactly that, with its wooden handle. Give this to a design snob who notices every last detail.
When it comes to classic, luxurious home pieces, you can't go wrong with Hermès. So, yes, this change tray is very expensive, but if you're trying to impress someone, it's the smart choice.
Upgrade their Ikea place setting to one that feels like it belongs on a properly set table.
The unique color on this dish comes from oxidized copper, so don't use this for food. Instead it serves as a easy catch-all for change or keys, or to display knickknacks.
Elegant Japanese ceramic plates featuring just a hint of pale pink touches on the current trend without feeling dated.
Everyone loves fluffy towels, and even more so when they're this cheerful.
Fine, you can get one of these for less than $50, but if you have someone who loves to host, go in with a friend or sibling to give them this upgraded chip-and-dip bowl.
Ultra-crisp, comfy cotton sheets? Heaven.
If you buy something through our links, New York may earn an affiliate commission.