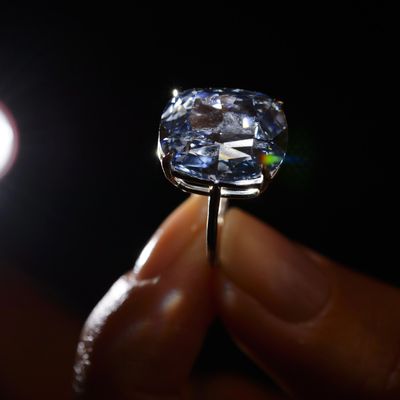 The $48.4 million "Blue Moon of Josephine."
Photo: Fabrice Coffrini/AFP/Getty Images
A Hong Kong billionaire dropped a record-breaking $48.5 million on a blue diamond for his 7-year-old daughter at Sotheby's Wednesday night, making the 12.03-carat jewel the world's priciest gem. Property tycoon Joseph Lau named the diamond the "Blue Moon of Josephine" after his little girl.
One night earlier at Christie's, Lau reportedly paid $28.5 million for a pink diamond and named it "Sweet Josephine." And in 2009, when his daughter was a baby, he bought her a blue diamond for $9.5 million.
That adds up to at least $86.5 million in gifts during little Josephine's seven years of life. Wonder how her Barbies are accessorized.