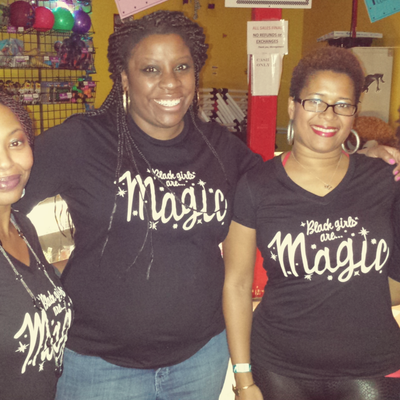 Black Girls Are Magic.
Photo: CaShawn Thompson
Quinn Norton, a technology writer and lecturer, feels kind of bad because she made a mistake. It began Tuesday morning when Norton, a white woman, happened upon the #BlackGirlsAreMagic hashtag on Twitter and decided to inject her opinion. It did not go well.
It began when seemingly out of the blue, she tweeted: "#BlackGirlsAreMagic & #WhiteGirlsAreMagic can compromise & agree that a woman's only value is how physically attractive & fuckable she is." Of course, you can't tweet that sort of thing and expect to hear nothing in return. Many of the several thousand black women who peruse #BlackGirlsAreMagic tried to help Norton. Some tried to educate her about the history of the hashtag, most objected to her insistence that the hashtag was male gaze fodder, and even more just wanted her to shut up.
A few years ago, a friend I can't remember posted a tweet I can't recall, that concluded with the hashtag #BlackGirlsAreMagic. When I traced the origins of the hashtag, it led me to CaShawn Thompson, who had begun selling T-shirts bearing the phrase. She seemed uneasy about the success of the endeavor. This was #BlackGirlsAreMagic in its infancy. Since then it's grown to be a helpful signpost, a way to find things online that support black women and their achievements — which isn't always easy.
When you are a woman and when you are black, there are few spaces on the internet that make you feel valued, #BlackGirlsAreMagic is one of them. It's a hashtag and a celebration, where the Trinidadian pianist, Hazel Scott, is lionized, and Victoria's Secret model, Maria Borges, is praised. There are posts that commemorate black women in magazines, acrobatic feats, and little black dolls that know how to code. It's a public brag board that enunciates black women and their achievements, triumphs, and perseverance, and a history lesson that begs you to not forget. There are so many little girls on the hashtag that are cuter than comprehension, and men, too, who just get it.
Dispersed among the easily recognizable faces are everyday people who just want to feel good. They post a photo of themselves in various states: wearing thick makeup, fresh-faced, covered in a clingy dress, or hardly anything at all. The hashtag community celebrates these images, too, because #BlackGirlsAreMagic, not a monolith.
Maybe that's what Quinn Norton stumbled upon when she posted her tweet. Norton went on to defend her words by criticizing the hashtag as a series of achievements sandwiched by, in her words, "BOOBS BOOBS BOOBS." The crux of her agreement hinged on the opinion that #BlackGirlsAreMagic is too confusing for an audience that isn't black and is vulnerable to hashtag highjacking by unsavory groups.
Naturally, people were pissed by Norton's self-imposed insertion into a topic where her thoughts were a matter of irrelevance. Later, she issued mea culpas and hinted at pockets of understanding the greater issue at hand, but ultimately failed to admit a deficient of authority on speaking on the subject at all. In many ways, she tainted a space that for so long served as a haven of positivity. #BlackGirlsAreMagic was, is, and will always be for black women and girls, and it's not one person's responsibility to make someone like Norton understand.
It's not useful to dwell on Norton's part in the discussion of #BlackGirlsAreMagic because her mark on the hashtag's history is etched in pencil. But on the point where she bemoaned the use of "fashion shots, sexualizing and boobs," I hope one day she is savvy enough to grasp that images like those are okay to like, and won't make anyone less of a feminist in doing so. That for so long, black women and girls were told that they weren't beautiful, and that praising black beauty within a white world is still very much in its inaugural stage.