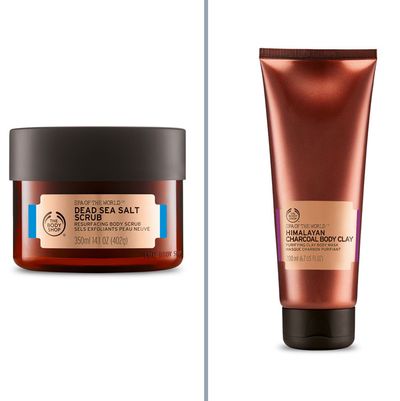 The Body Shop Spa of the World Collection.
Photo: Courtesy of The Body Shop
Sorry, The Body Shop — I misjudged you. Up until recently, I thought my relationship with your products had come to an end. Your scents and your packaging seemed aimed at my sixteen-year-old self, and I assumed I'd outgrown you. But it turns out I owe you an apology.
I tried your new Spa of the World collection recently, and I have to say, I was impressed. The Hawaiian Kuiki Cream is thick, but spreads easily. I've been using it to moisturize my body since the start of fall and it seems to practically melt into my skin. The cream is so moisturizing that I use it on my feet, too, and it successfully has stymied any signs of cracked or neglected skin.
Before I moisturize, I slough away rough skin cells with the collection's Dead Sea Scrub: an intense, grainy formula that smells like the ocean — it's glorious. I like that it's not offensively oily, like some scrubs, but rather creamy with large specks of salt spread throughout. Paying special attention to my elbows and knees makes them feel really smooth and soft.
There are several body oils in the collection: three massage oils and a radiance oil. Apart from their different fragrances, however, all four seem to behave the same. That's a good thing. None of the oils are sticky, and they all dry within minutes of hitting my skin. I like to rub the Monoi Radiance Oil over my skin before I go to bed. It smells ambiguously tropical, like the Kuki Cream, and allows me to wake up with skin that feels decadent and supple.
Aside from a few confusing body masks, I really enjoyed the new collection. The packaging — amber bottles affixed with gold labels — looks luxurious and apothecary-like. The scents are prevalent (as always), but not nauseating. And if the name sounds a little like a beauty counter at an international airport, so what? I'm sorry for doubting you, The Body Shop. I'm not too sophisticated for you after all.
Spa of the World Collection, $15–$36 at The Body Shop.