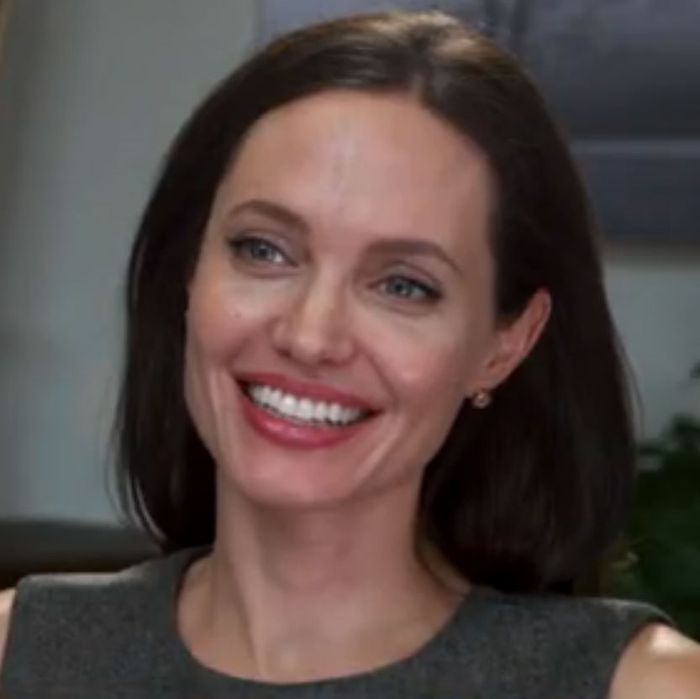 As promised, to promote their upcoming film By the Sea (their first together since Mr. & Mrs. Smith), Brad Pitt and his wife, Angelina Jolie, sat for a joint interview with Tom Brokaw on the Today show that aired Monday morning. Remember last week when your boyfriend bought you an extra-large order of onion rings as a cute surprise before you went out to see Bradley Cooper's Burnt? That's going to seem like small potatoes when you watch these two interact in this interview.
Brokaw asks Pitt what he thinks when Jolie offers to act like "a more conventional wife and mother." Jolie, laughing, adds, "Every three months, I'll say, 'Honey, I should learn how to cook.'"
But Pitt won't have that. "I just humor it, but really she has no business in the kitchen." Her business, instead, is writing, directing, and producing films that the pair can star in. Just like your relationship!
Brokaw wonders how Pitt saw himself in his role as Jolie's husband after Jolie made the decision to have her ovaries and fallopian tubes removed. Was he making decisions for her? Hardly. "Support," he told Brokaw. "Whatever's gotta be done to keep the family together and keep the family together as long as possible, it's gotta be done." He adds, "There was no vanity to my wife's approach. It was mature." You might want to send this link to your significant other.