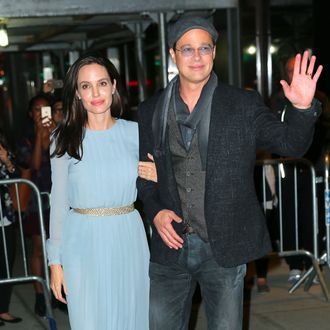 Angelina Jolie and Brad Pitt.
Photo: Jackson Lee/Splash News
Yesterday in New York, Angelina Jolie and Brad Pitt passed their day with an excursion to Barnes & Noble with the kids and a screening of their husband-and-wife project, By the Sea. While Pitt wore orange-tinted glasses earlier in the day, he switched them out in the evening for a powder-blue pair that matched Jolie's chiffon dress, adding a sartorial standard to our relationship goals.