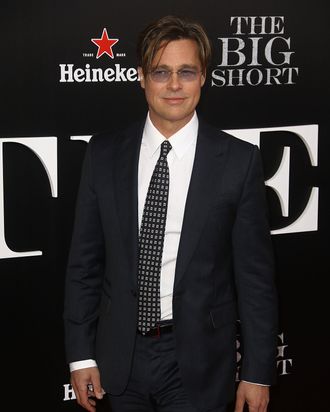 Cooking a turkey, yeah right
Photo: AR Photo/Splash News
The Jolie-Pitts are a perfect family: perfect hair, perfect shirts, perfect teeth, probably perfect family get-togethers where no one yells about Ben Carson and everyone "calls it a night" after two martinis. One thing that we can feel secure about, however, is that whatever we normals lack in perfection, we make up for in sumptuously cooked turkeys on Thanksgiving Day, ones that we can say with pride we cooked ourselves. The Jolie-Pitts, however, are not going to be having that same experience this Thursday. Not if Brad has anything to do with it.
At the red carpet premiere of The Big Short on Monday, Pitt told Extra that he'd be masterminding the bird for his family's Thanksgiving dinner in New Orleans this year. "Yeah, I'll get in there, I'll mess it up a little bit," he said. "We got Thanksgiving, man — I'm all over that turkey."
Oh my god, that's not how you do it, man.