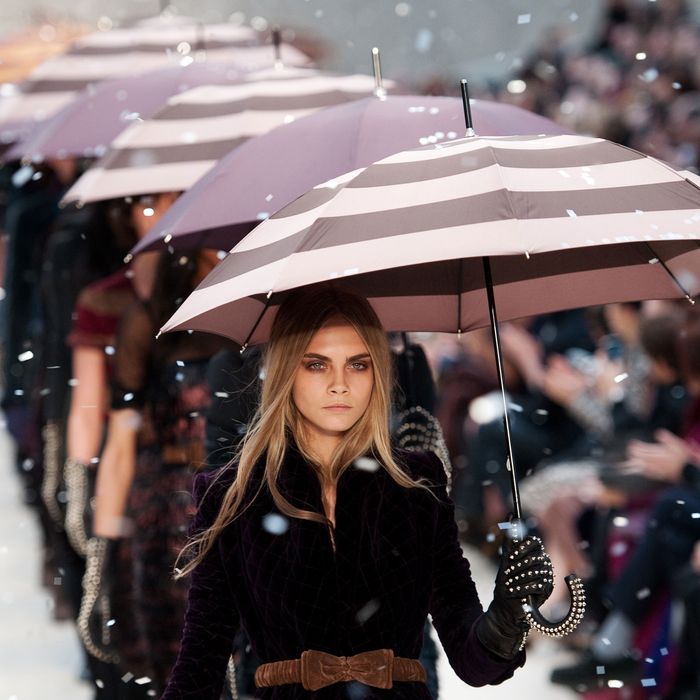 Photo: LEON NEAL/AFP/Getty Images
Burberry is the latest brand to begin consolidating its sub-brands under one umbrella. That means that, per a tweet from WWD, its Prorsum, Brit, and London collections will become a single brand, to be called, simply, Burberry. (That has a nice ring to it!) At the premiere of the brand's festive film on Tuesday, chief creative and CEO Christopher Bailey said the changes would take effect by the end of next year. In a statement, Bailey explained the decision, saying, "The behavior of the luxury customer is evolving, their style is more fluid and this is reflected in the way they shop. The changes we are making allow us to serve this new behavior more intuitively. By unifying our three lines under one label we can also offer a much more consistent experience of Burberry's collections." All the products will be designed and developed in London.
It's not the only news break from the brand, which also made a new commitment to its Made in Britain promise. According to the Yorkshire Post, Bailey also announced that Burberry will open a new factory in Leeds for its signature trench coats; the move is expected to create 1,000 jobs.
As for the consolidation news, Victoria Beckham and Marc Jacobs pursued similar moves earlier this year: Beckham merged her VVB and denim brands, and Jacobs is folding Marc by Marc into his main line. Also this year, Vivienne Westwood declared her intention to cut down the number of lines she designs to two (the current count stands at four). Perhaps the Kondo-ing craze now extends to business portfolios?