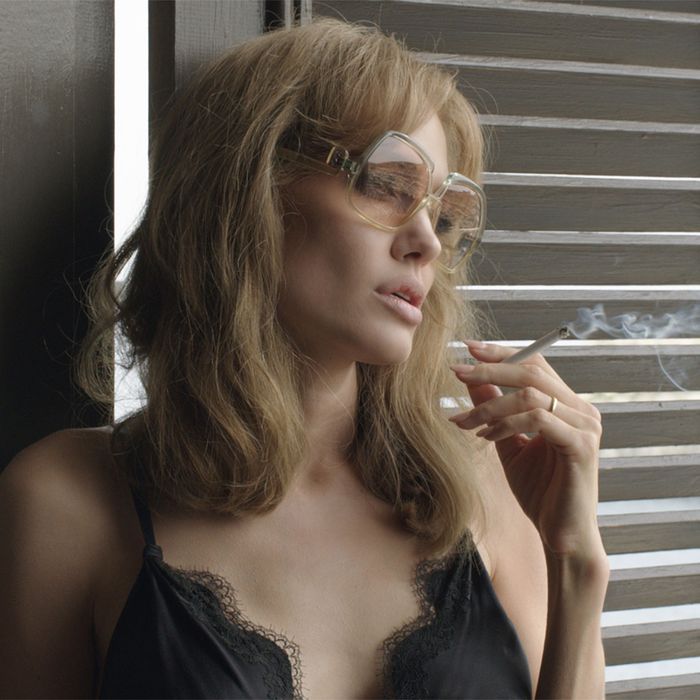 Angelina Jolie in By the Sea.
Calling from Cambodia, Ellen Mirojnick sounds tired but exhilarated. The veteran costume designer is there to work on Angelina Jolie's film-in-progress, First They Killed My Father. It's the continuation of a fruitful collaboration between the actress and the costume designer — Mirojnick did the wardrobe for By the Sea, the Jolie-helmed film that opens this weekend and stars Hollywood's most glamorous couple playing, well, the French Riviera's most glamorous couple. Jolie and Pitt's characters drink, fight, and fall in and out of love while vacationing in a luxury hotel, where they encounter an intriguing couple played by Mélanie Laurent and Melvil Poupaud.
Mirojnick is no stranger to dressing glamazon characters — she's responsible for Glenn Close's off-the-shoulder bunny-boiling outfit in Fatal Attraction, Sharon Stone's curve-swaddling white dress in Basic Instinct, and Diane Lane's sinuous lingerie looks in Unfaithful. And on the glitzier side, she's costumed Behind the Candelabra and Showgirls. Still, it wasn't easy to create the perfect look for the jet-setting couple. Below, seven things we learned about how By the Sea's enviable wardrobe came together.
1. Practically everything was ready-made for the film.
"We didn't do vintage clothes. Everything was created. We built it from the ground up," Mirojnick explains. A few exceptions: Some of the pieces Mélanie Laurent's and Melvil Poupaud's characters wore were vintage, as well as the oversize YSL sunglasses, Louis Vuitton bag, and picture hat Jolie's character wears. "If I put a vintage blouse, a vintage skirt, a vintage suit on Brad's character, Roland, that's the equivalent of you looking in a newspaper or magazine that has been yellowed. It would look a little too aged."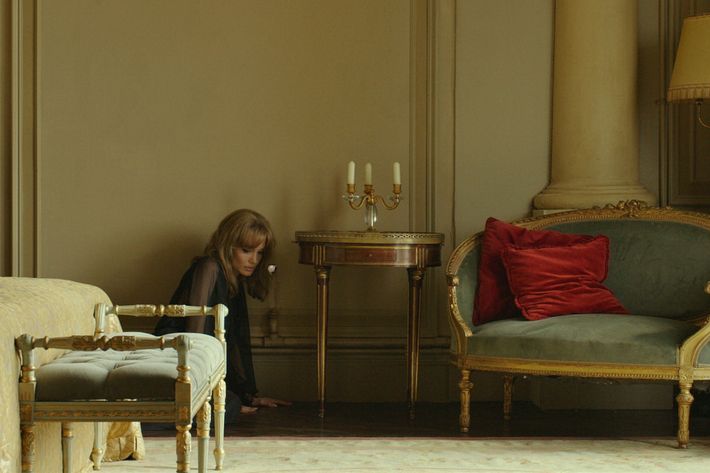 2. The movie wasn't supposed to look like a '70s period piece.
"There are markers, but the point was to really create a classical feel and not be so precious to the year," says Mirojnick. "So what we liked was the mix of the late '60s into the early '70s, especially in Europe at that time, in the international set of New Yorkers traveling."
3. Jolie made an inspiration look book for the film, which focused on movie stars and style icons more than the runway.
"Angie had selected quite a bit, but that didn't have much to do with fashion. It had to do with the mood that she was looking to create. We looked at Jane Birkin, Serge Gainsbourg, Charlotte Rampling, Elizabeth Taylor. We looked at all those international personas to see what [the time period] felt like, and what it felt like is more important in the overall design than the specifics of it," she explains.

"We looked at Halston and we looked at YSL, [but] YSL from that period was a little too on the nose for us to use within the film. I think that that would have been too costume-y, to be honest."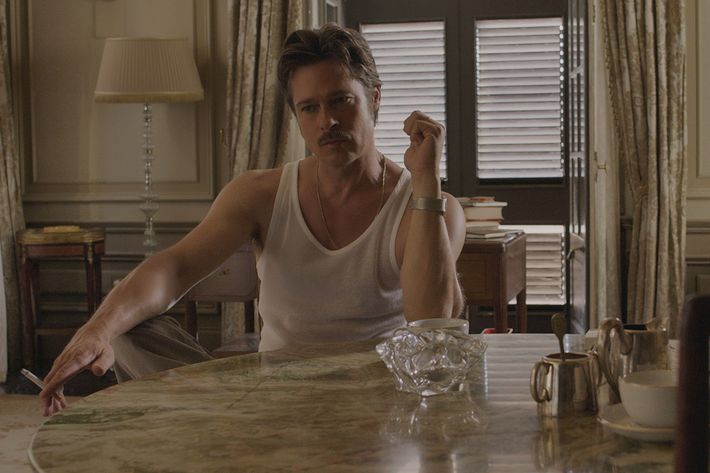 4. Mirojnick thought of Jolie's character as someone who "self-medicates" with luxury.
"In her lingerie, in her nightgowns, in her cover-ups, all of the fabrics were really luxe and purposeful in that they were soothing. It was her self-medicating, if you will, with luxury. We wanted to make sure that this couple had enough armor to protect them, and [could] strip it away when necessary."
5. She used color to indicate the characters' transformation.
Jolie's character Vanessa wears black, white, and neutrals through much of the movie, but as she and her husband develop a voyeuristic obsession with the French couple, "she started to warm up," as Mirojnick puts it. "So the color that we chose, we wanted it to pop in a way that wasn't RED! So it was a brick-y color. The colors that we chose, everything had somewhat of a sour tone to it," like an acid green. The silhouettes changed, too, becoming more body-conscious as she grew more comfortable with herself.
6. Mélanie Laurent was a major fan of her character's wardrobe.
"There was quite a lot of Frenchness about it," Mirojnick says. "What I mean by that is there was this un-self-consciousness about it. If she turned and saw her body move underneath the clothes, that was perfectly fine. There's an ease in casualness and a sexiness to the way that Frenchwomen put things together, where it doesn't feel 'put together.'

"When Mélanie Laurent came in, we prepared a couple of racks of clothes for her to try, because it's always interesting to see what your actress is going to bring to the role and how you discover who the character is. Mélanie just walked in and she said, 'Oh, Jane Birkin, finally. Oh, thank you, thank you, thank you!' She just fit the character, fit the clothes. They are little pieces that are actually far more period-centric than what we did with Roland and Vanessa."
7. Brad Pitt is really into texture.
"He requested that all of the fabric that we chose have a texture, that they wouldn't be flat fabrics, and that really helps in shooting so that you can see a texture. [Anything] slouchy, that was really important for Brad, and crumpled and worn." 

This interview has been edited and condensed.