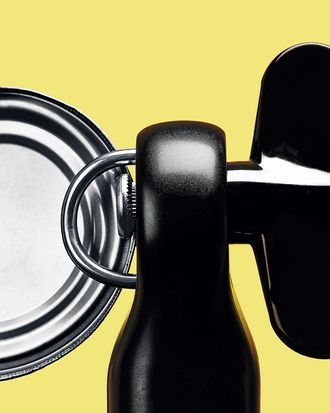 Good Cook's safe-cut can opener.
The Goal: Find a handheld can opener for the Thanksgiving host faced with towers of canned cranberry sauce and organic pumpkin purée. Local chefs and gadget obsessives guided us toward designs with strong blades, tight clasps, and grippy plastic handles, all to make for a seamless twisting experience free of palm cramping.
The Verdict: Good Cook's safe-cut can opener ($13 at Amazon.com) doesn't function in the usual manner (cutting into a can's sunken top). Instead, the blades work their way around the outer sides, a few millimeters below the rim, separating the entire top in a clean swoop. Unlike the traditional two-arm pinch, this one doesn't come with a bottle opener tacked on, but its minimalist design (a single blade attached to one long, slim handle) takes up only about four inches of drawer space.
*This article appears in the November 16, 2015 issue of New York Magazine