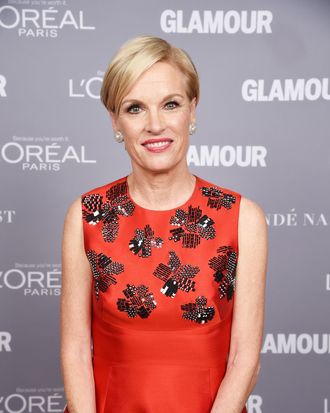 Cecile Richards.
Photo: Dimitrios Kambouris/Getty Images
It's been a rough year for women's reproductive rights, and as the president of Planned Parenthood, Cecile Richards has been through a lot, including one of the House's grueling congressional hearings. For her efforts, she was honored by Glamour last night as one of its Women of the Year. When the Cut ran into Richards at the dinner following the awards ceremony, we had to ask her about the blossoming of support for the organization — especially among celebrities like Lena Dunham, Gabrielle Union, and Scarlett Johansson — which has appeared simultaneously with the attacks.
"It's been incredible. Just even in the last couple months, we gained almost 300,000 new activists, and most of them are young people," Richards shared. "I think this, and particularly the hearing in Congress, just lit a fire. Sometimes you just have to let your enemies do your organizing for you. I think the hostility to women's rights has been so profound from Congress, from some members of Congress, that it's been a big wake-up call."
This has also been a big year for feminism, or at least discussion about the label and the meaning of the word. Richards doesn't think that that's a coincidence. "Look, once Beyoncé does a world tour with the moniker of feminism, it's hard to call us a fringe movement," she said. "Whether it's people calling themselves feminists or just actually supporting equality for women, which is all feminism really is. When we have true equality, it's going to be because not just women fight for equal rights, but because men and women together fight for equal rights." But an endorsement from Queen Bey certainly doesn't hurt.