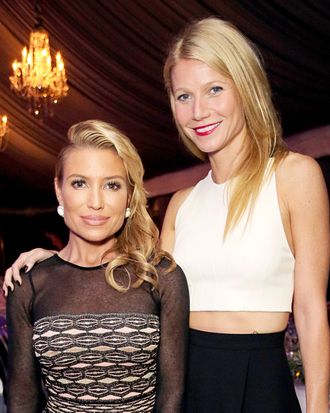 Tracy Anderson with fan.
Photo: Rachel Murray/Getty Images
The Tracy Anderson Method has many famous fans—Gwyneth Paltrow, J.Lo, Jennifer Aniston, and Cameron Diaz among them. Unfortunately, her haters live just above Anderson's massive Tribeca studio.
"The vibrations are so extreme that they can be felt by occupants on the ninth floor of the building," court papers filed by the board of 408 Greenwich Street allege.
The building's board is suing the fitness company known for classes with "high-intensity choreography," "unique training tools such as poles, hoops and resistance bands that hang from the ceiling," and an "advanced sound system" that wakes residents up as early as 5:45 a.m. One resident is "frustrated, irritable and angry," according to court papers.

The vice president of publicity at Tracy Anderson called the studio an "excellent" tenant and announced the company would soon be moving to a bigger studio…just down the block.
But the issue may follow the studio. According to the suit, the workout targeting accessory muscles is causing the building to "sway back and forth." The residents' "acoustical expert swears in her affidavit that, in her over 30 years of experience, she has 'never seen anything this extreme.'" But, seriously, what a testament to the power of the Tracy Anderson Method!