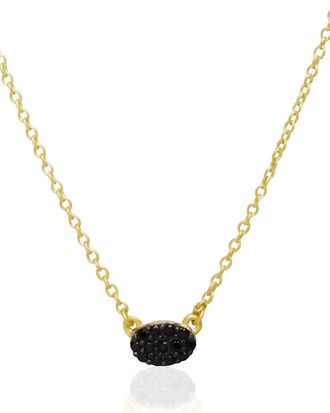 Every Monday at the Cut, we're highlighting one great purchase that won't take up your whole paycheck. If you're looking for a splurge instead, check back every Friday for one great purchase that's worth eating ramen noodles for the rest of eternity.
There was a time when I bought all my jewelry at Claire's and just replaced it every few months, but recently I've tried to cut down on those kinds of purchases in favor of slightly more expensive pieces that I can wear every day. I'm not at the point where I can ball out and spend thousands of dollars on a necklace, so it's taken me a while to find jewelry that's affordable, simple, and not too trendy. I was pleasantly surprised by this pavé disc necklace at Freida Rothman. The image on the site doesn't do it justice. It's made from 14-carat gold and pavé stones — just enough sparkle that people notice it and ask where it's from, but not enough to overpower the mini nameplate and chain-link necklaces I layer it with every day.
Freida Rothman Pavé Disc Necklace, $90 at Freida Rothman.