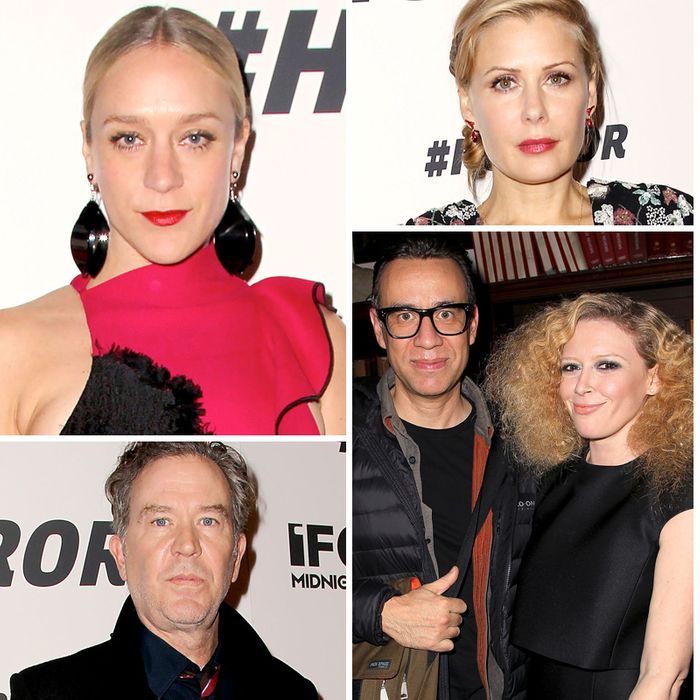 Photo: Aurora Rose/startraksphoto.com
Last night at MOMA, artist and designer Tara Subkoff premiered her first feature film, #Horror, a bloody tale of female friendship. The film, inspired by true stories about teenage bullying, centers on five frenemies stuck in a palatial glass house in Greenwich, Connecticut, at the world's nastiest sleepover. The story is part campy horror, part social commentary about the dangers of cyberbullying, which, studies show, women are twice as likely to experience and perpetrate.
Last night at a screening of the film, the Cut asked nine celebrities to tell us the meanest thing someone has ever said to them online, and how they handle it. Read on for thoughts from Salma Hayek, Fred Armisen, and Natasha Lyonne. 
 
Chloe Sevigny
I never Google myself, or read comments. But since I'm in the public eye it's fair game, or so they say. Whenever anyone insults you physically, it's always hurtful, and there isn't much you can do about it. I had someone bully me in person recently, and that was pretty terrifying. I was at the airport, and I guess I was not kind enough, and he lashed out at me. It was really, dramatic, and really upsetting. He was saying a lot of things about the way I looked. I find a lot of people like to talk about me in front of me, like I can't hear them. A lot of celebrities, or people in the public eye, get that a lot. It's like, No, I can hear you talking about me.
 
Fred Armisen
I only pay attention to positive things. I'm very disciplined. I learned from my days at Saturday Night Live, just to enjoy my time. It is always better to focus on the positive. I'll read an article, and if there's a review of a show that I'm on, I'll end at the article, and I won't go down to the comments. They are like white noise. It's like echoes of a distorted sound, feedback on itself.
Tara Subkoff
I've had a lot of mean things said about me in the press, online, you name it. In my time doing Imitation of Christ, I was that person that people loved to hate, so I have definitely gone through a lot of public cyberbullying, and media bullying. But, when I was paparazzi'd for having a brain tumor, I think that was as low as the media could go.
Annabelle Dexter-Jones
There was this Twitter handle, that was called "Was pretty, now fat," that was just comments about me. I didn't take it personally. I actually found it really humorous and inventive. I think it might have been the ex-girlfriend of my boyfriend at the time. She also said that my hair was always so messy, because it was so full of secrets. There was another Twitter handle that said something about me having an incestuous relationship with my brother. My way of handling it is just not to do anything about it. I try to have a sense of humor about it.
Salma Hayek
I'm very lucky online. I just started with the social media and I have been very lucky. So far, so good.
Natasha Lyonne
Oh my god, it is so improbable I would ever answer that question and still look you in the eye. But kids used to make fun of me for my hair, they said that I didn't comb it, but look at me now.
Stella Schnabel
Cyberbullying is a little after my time, but I've seen people write nasty things on Instagram or Twitter. In school, I usually was the person defending the kid that was being bullied. Nobody would really fuck with me as a kid. I was pretty confident, so the kids that I was friends with would always somehow get picked on. So I would scare the other people, and tell them to stop messing with my friend. I'd just talk to them straight up in their face. Honesty usually scares people quite a bit. You don't need to do much except be confrontational.
 
Waris Ahluwalia
I stay off the internet. But as a kid, I think I dished and I received. We all did. I probably threw a kid in a trashcan — fun stuff.
Tim Hutton
I haven't ever hunted for mean things said about me online. But when I was a kid there was a kid named Jackie who rounded up all the smaller kids and would have boxing matches. The only way you could get to your house was if you passed through Jackie's, and you were brought into the ring to fight Jackie. I found an alternate route.