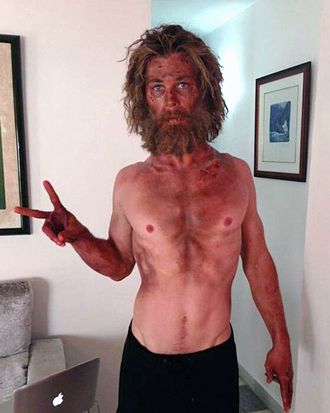 Hello there
Photo: Chris Hemsworth
Creature of marvel and actor in Marvel movies Chris Hemsworth is a new addition to the celebrity Instagram illuminati, and within six weeks of his membership, he's already proving his aptitude. Hems has posted a few good snaps of himself with the diverse wildlife of Australia (his homeland), and what's more, we now feel confident saying we know that he is not Liam. He is the other one.
Sunday, we learned a new little tidbit about our friend Chris Hemsworth: During his shoot for In the Heart of the Sea, Hemsworth dropped down to a 500-calorie-a-day diet. He looks bad, dirty, and broken.
Hemsworth told Entertainment Tonight, "We have to shoot the really skinny stuff where we drop down to 500, 600, 700 calories a day, a good three or four weeks and it's going to be pretty uncomfortable, but we'll be together in our misery. I spend more time thinking about food than anything else at the moment."
What say you about this image of Chris Hemsworth on a 500-calorie-a-day diet? Me? I'd still smash.