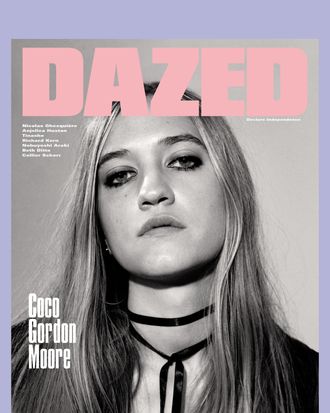 Coco Gordon Moore.
Photo: Collier Schorr/Dazed
As the daughter of Kim Gordon and Thurston Moore, 21-year-old Coco Moore Young seems destined for fame, but she somehow escaped the spotlight until a Marc Jacobs campaign this past summer. A few months later, she's now landed her first major interview and magazine cover, too, appearing in the winter issue of Dazed.
Technically, though, it's her second appearance in the magazine: "It was only after we went to print that we realized she had been in Dazed once before — as a baby, with her mum, backstage at a Free Kitten concert in 1994 shot by Corinne Day," editor-in-chief Isabella Burley told the Cut. This time around, Coco's a little more front and center, starring on one of four covers wearing Saint Laurent. There's a little familiarity with the photographer, Collier Schorr, as well: She's represented by the same gallery as Kim, New York's 303.
Despite all the big names, though, Burley says Coco is "self-assured enough to have very little interest in fame." Case in point: Coco doesn't have an agency, a publicist, or a public Instagram. Missing, too, is a Wikipedia page, though no doubt one will be up again soon: "My parents had it taken down because it was so creepy," she said. Thanks, Mom and Dad!