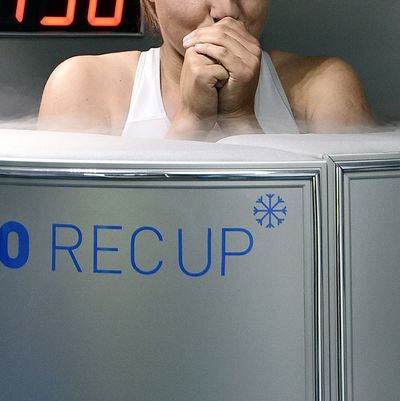 A cryotherapy chamber.
Photo: FRANCK FIFE/AFP/Getty Images
Nevada is trying to get the word out about mostly unregulated cryotherapy treatments in the wake of a tragic death. In late October, 24-year-old esthetician Chelsea Ake-Salvacion was found dead in a cryotherapy chamber at the Las Vegas medical spa she managed; the county's coroner determined the cause of death was asphyxia caused by low oxygen levels. The family's lawyer suggested that Ake-Salvacion might have lost consciousness when reaching for her dropped cell phone, which was found near the chamber. She was by herself at the spa after hours and the Las Vegas police department closed its investigation saying her death was accidental. But concerns still loomed.

Cryotherapy chambers use nitrogen to cool the air inside to temperatures as low as -265 degrees Fahrenheit and are thought to boost the immune system and reduce inflammation — but they're not regulated by the FDA or approved to treat any condition. After a state investigation into the accident, Nevada has created guidelines for use of the machines.
Dr. Tracey Green, the state's chief medical officer, told the Associated Press on Friday the recommendations state that cryotherapy chambers shouldn't be used by people under 18, those under 5 feet tall, or people with certain health conditions, including a history of high blood pressure, seizures, or stroke. People who are pregnant or have pacemakers are also advised to abstain.

The guidelines suggest that clients be limited to one 3-minute session per day and should have their blood pressure taken before and after by employees, who should know how to do CPR. Additionally, cryotherapy centers should have emergency kits and defibrillators on site, nitrogen monitors in treatment rooms, and signs and waivers that clearly explain the risks involved in cryotherapy and that it has not been proven to treat illnesses.

The health department will work with businesses to make sure they're meeting the state's "expected standards" but these recommendations don't amount to law and there are no penalties for not following them. For now, the state isn't pursuing any further regulations, but Dr. Green told the AP that she urges people to talk to their doctors before undergoing a deep freeze.