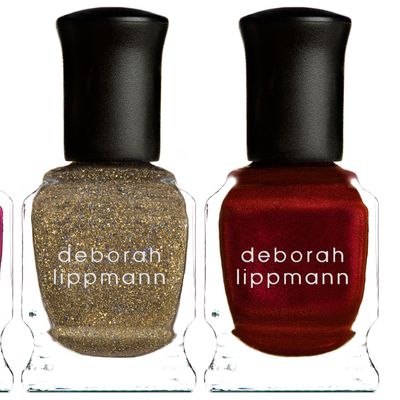 Deborah Lippmann for Empire.
Photo: Deborah Lippmann
The true marker of a cultural phenom is when the fashion and beauty labels come calling. Before snagging a partnership with Hood by Air, Empire took a much more colorful route. In a three-piece set released today, the show joined Deborah Lippmann to showcase nail polish inspired by the drama in the Fox series. It seems like two great brands — Empire and Deborah Lippmann — found each other, but do the shades and formulas stack up?
Of the three colors in the set, Power of the Empire and War of the Roses feel like holiday fillers that would have gone in any collection coming out this time of year, no matter what the media tie-in. That's not necessarily a complaint. War of the Roses, a shimmery ruby red, looks especially decadent. It's a red made majestic thanks to swirls of glimmer that steer the shade into a particularly radiant vibe. Power of the Empire, a festive gold glitter, is pretty impressive, too, and is packed with so many tiny bits of glitter that only two coats are needed for an entirely opaque yet completely twinkly nail. Just expect to exert a little more elbow grease when the time comes to remove the lacquer.
Hustle Hard is a magenta that, like War of the Roses, is mixed with just the right amount of shimmer to make it feel extra luxurious. It's the color that I think fits best with the series, and is decidedly the most Cookie Lyon. The wear on all three polishes is notably long-lasting, with the glitter shade holding out for the longest.
You could make a case that the names of the polishes should be Cookie one-liners, like Boo Boo Kitty, or Get What's Mine, but that's a minor detail in the grand scheme of things. The bottom line is that the nail collection is a gem, and at $24, it's a holiday present that doesn't require Empire-level connections to be able to afford. 
Deborah Lippmann and Empire Nail Collection, $24 at Deborah Lippmann.