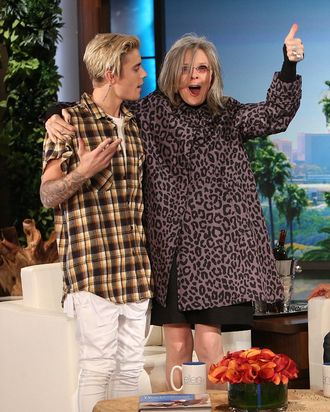 Heyyyooo
Photo: Michael Rozman/Warner Bros
If you've ever found yourself wondering how Diane Keaton (who is 69 years old! no coincidence!) has barely aged more than a day in the near seven decades she's been grinning wildly all over mother earth, it appears we may finally have an answer. That wine glass you always see her with is not actually filled with blood found at the fountain of youth, nor is she hiding a secret anti-aging serum beneath all of those bowler hats. Keaton is powered by horniness … the horniness for hot young men.
Keaton visited her friend Ellen DeGeneres on Friday with the intent of talking about who-knows-what — iced wine? button-down blouses? — but the conversation turned quickly to a subject about which we had no idea Keaton was so informed: nubile young skateboarder Justin Bieber. After DeGeneres pulled up a photo of the well-endowed Bieber in a towel, Keaton squealed (no other word for it): "Now we're talking!" "Do you think he'd go on a date with me?"
And then, as celebs are wont to do on The Ellen DeGeneres Show, Biebs himself appeared, which sent Keaton's horniness meter from 0 to 60 real quick. She flushed, she hugged him, and she squealed with delight.
Is Diane Keaton the horniest woman in Hollywood? Is she the ideal for what we all hope to be like in our late 60s and into the future? Is she really just us in a white pantsuit resting on a cane? It sure seems like it. Her horniness, like ours, has not been limited just to Bieber. It reaches far, wide, and long. Here are the top five best times Diane Keaton was horny as hell, and we loved it:
1. When Keaton was perplexed that hunk of man Channing Tatum was married to someone who is not her.
2. When she admitted to having a "wall of men" with pictures of babes she has the hots for (including but not limited to Sam Shepard, Jeremy Renner, and Abraham Lincoln).
3. When she went to visit Ellen on a separate occasion to talk exclusively about her history of lovers and how there's "no question about Jack Nicholson being a good kisser."
4. When she embraced the hell out of this dog on the red carpet on Thursday because, hey, loving is loving no matter what shape it takes.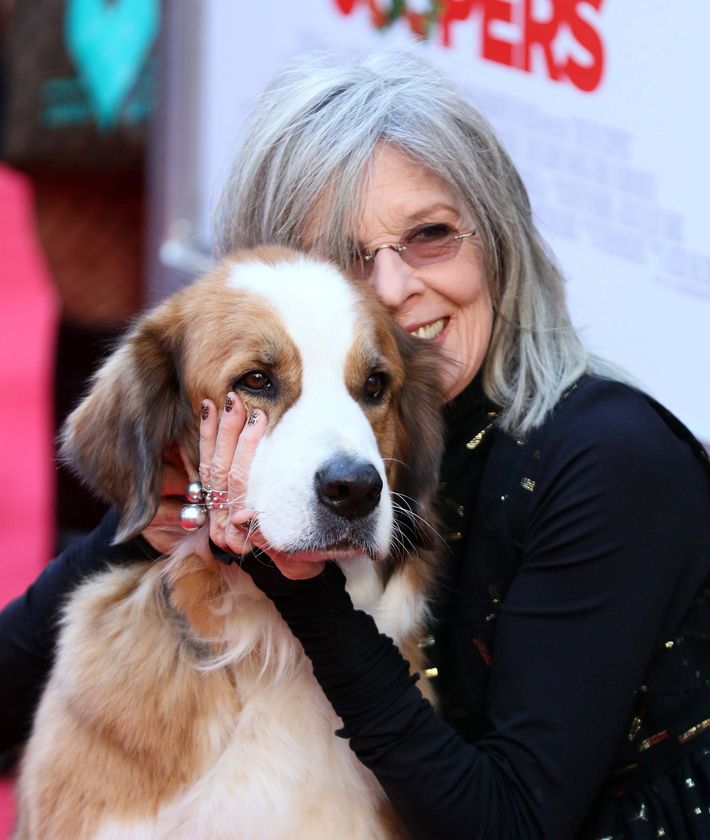 5. When she went on Late Night to play beer pong and completely missed the point of the game, then ended up tossing balls all over Jimmy Fallon's stage. This woman is better at flirting than we'll ever be.
Never change, Diane Keaton. You are an idol of horniness, and we love it.