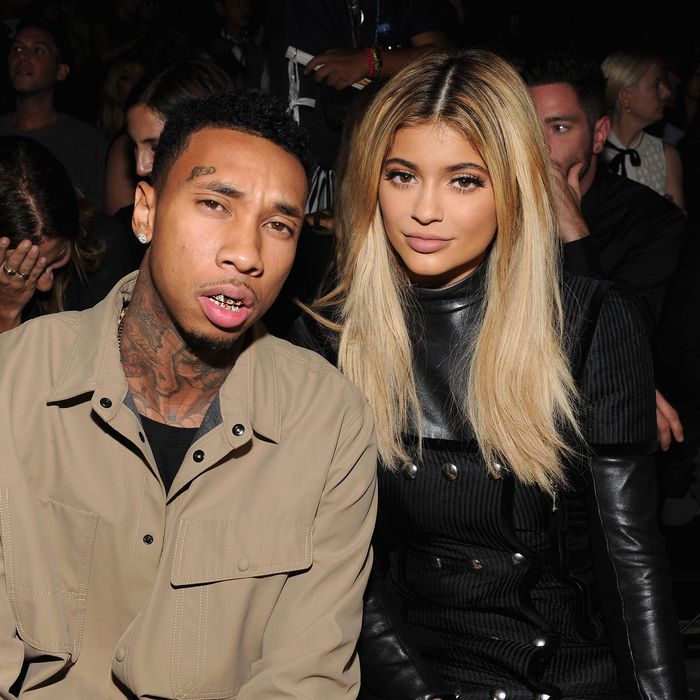 RIP
Photo: Craig Barritt/2015 Getty Images
TMZ and E! News are both reporting that Kylie Jenner and her much older boyfriend Tyga have officially called it quits. The breakup was "sudden and nasty" and apparently initiated by Kylie because of "something Tyga did."
There is some rather damning evidence that supports this theory:
1. Kylie didn't go to Tyga's birthday party. This is weird because the two are pretty inseparable. The upcoming episode of Keeping Up With the Kardashians centers around the family getting angry at Kylie for spending too much time with Tyga, so to not show up to his birthday party is a pretty big deal. Not a single Jenner or Kardashian was reportedly present at his 26th bash at 1 Oak on Thursday.
2. Kylie didn't wish Tyga a happy birthday on any social media platforms. Not Twitter, not Instagram, not even on Snapchat. Ice cold.
3. Kendall Jenner Instagrammed a picture of her giving the camera the middle finger. Sending a message to her little sister's asshole ex, perhaps?
We'll wait for official confirmation from the Kardashian camp before adding them to the relationship tombstone.
Bet Tyga is regretting that "Kylie" bicep tattoo about now.