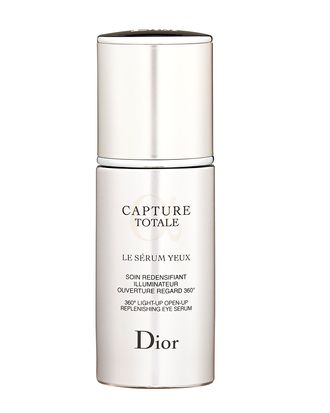 Dior 360° Light-Up Open-Up Replenishing Eye Serum
Photo: courtesy of Dior
When you're a beauty editor, the best way to test a new product is to divide your body in two: One product goes on the left side, and another one on the right. This technique is especially useful when testing eye creams, as it usually reveals that the cheap eye cream on the left is equally as fruitless as the prestige eye crème on the right. Dior's new dark-circle eye serum, however, bucked the trend.
The serum, named 360° Light-Up Open-Up Replenishing Eye, pledges to smooth under-eye skin, de-puff bags, reduce the appearance of dark circles, and transform eyes to look more "open." After two months of twice-daily use, I found that the serum followed through on three of these claims, which, in the world of skin care, is really quite good.
360° Light-Up Open-Up Replenishing Eye comes in a pretty silver bottle. When you unscrew the cap, a long wand emerges. This has an oval-shaped tip made up of opposing surfaces: a smooth side for general serum application, and a bumpy side for massaging in circular motions around the eye to erase remnants of wrinkles. Whenever I used the applicator wand to directly apply the serum, though, the formula seeped down the tip and resulted in a gooey mess on my skin. Instead, I used my fingers, which seemed to work just as well.
The formula itself feels more like a light cream than a slippery serum, with a trace of iridescence that instantly makes the under-eye look brighter. Within a month or so, I noticed much more significant benefits, like smoother and softer skin, and most important, the reduction of dark circles. The only claim that wasn't borne out: My eyes never opened any wider. I think they're about as big as they're ever going to get.
Dior attributes most of the product's magic to two rare plants. One, Longoza, interacts with stem cells to encourage faster cell turnover and plumper, more youthful skin. This regenerated skin masks the blood vessels that lead to dark circles. Whatever the explanation, it really works, which is why my left eye recently started receiving the Dior treatment as well. My days with lopsided panda eyes are numbered.
Dior's 360° Light-Up Open-Up Replenishing Eye Serum, $110 at Macy's.