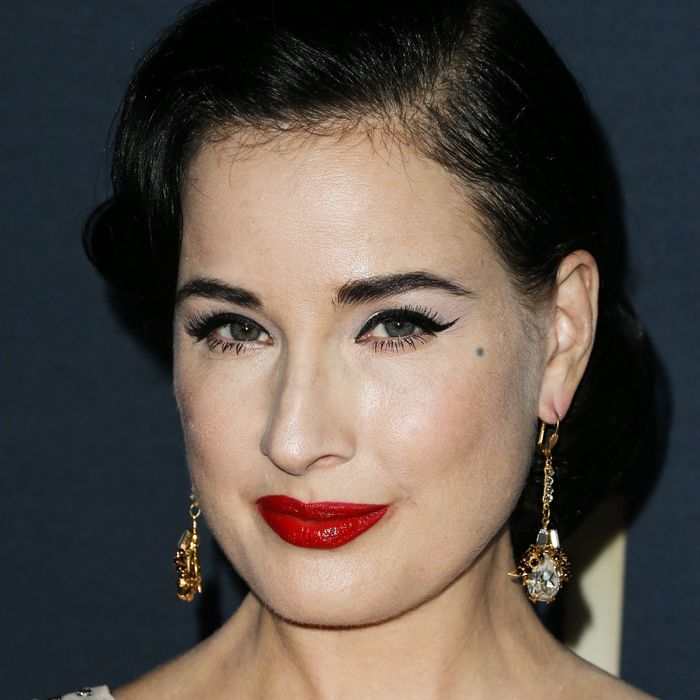 Photo: Xavier Collin/Image Press/Splash/Corbis
Femme fatale and glamour champion Dita von Teese spent two years as a M.A.C Viva Glam spokesperson and is back in the family again with a new, exclusive lipstick launch. Out December 9 online, the matte, pink-based red lipstick is named after von Teese, a self-described "red-lipstick addict" who found inspiration in the hundreds of red lipsticks she has at home. Von Teese talked to the Cut exclusively about the new launch, how her beauty routine helps her "lean in," and her dislike of beige.
How did the new von Teese lipstick come about?
I'm quite close to all of my friends from M.A.C, so we thought it would be of interest to fans of M.A.C to create a lipstick in honor of my new book, Your Beauty Mark. We knew it would be red for sure since it's a signature for me. For my entire adult life, I can't really remember a time when I left the house without red lipstick on. They knew what some of my favorite M.A.C colors were, including colors that had been discontinued, and I told them my preferences and they sent me a selection. It wasn't very long — we narrowed it down pretty quickly to three and I wore all of them for several days. Gregory Arlt, who is one of the M.A.C senior makeup artists and one of my closest friends, weighed in. I'll still be wearing 47 other M.A.C reds, but this is the one that speaks for the book.
You've said before that people have their "drag" and people don't want to stray away from it. Do you find that to be true of yourself? Do you get curious about other looks?
It's true for myself. My beauty routine gives me courage when I need it. It makes me feel confident and projects an image of who I want to be. I can't imagine my life without it; it's the same as waking up and brushing my teeth every morning. When I am stripped of it for whatever reason by photographers who want to change up my look, I feel like I have my confidence taken away from me.
I remember when I was younger, watching the Phil Donahue show, which had a makeover theme. It was women who had been wearing their makeup the same way forever, with big lashes, coral lipstick, and aqua-blue eye shadow. They gave them a make-under and they just looked so normal — they were defeated and deflated. And I was like, Why did they make those beautiful ladies look so boring?
I've always been attracted to people with a flamboyant sense of style when it comes to beauty. I still do. I can only remember people who are distinct. I meet beautiful models and beauty and fashion bloggers and I have a hard time remembering them unless they have something distinct. I notice their eyeliner and hair and nails, and those who live in a world of beige and natural beauty and makeup — I don't remember them. I can't remember their name or how I met them. I remember the glamorous eccentrics.
If there was a word to describe your beauty routine, what would it be?
I love the word glamour because glamour is about creating mystique around something. It doesn't depend on age, ethnicity, or even being beautiful. Glamour is about creating allure and interest. I was a blonde girl from a farm town in Michigan but when I dyed my hair black and did a cat-eye and red lipstick, I got attention. People noticed me. I could ask for what I wanted and and say no to people. It made me more powerful. Glamour has a power to transform. Not that red lipstick is a magic wand for every person — it's very individual. I encourage people to find out what that is for them; that's what my book is about.
People often associate beauty routines with work or effort. Do you feel the same about your routine?
Well, I have varying degrees of glamour in my life. On my normal day, I always put my hair in a neat twist, which takes me seconds. I always put on a sweep of face powder and red lipstick, which takes me mere minutes. I could do it in five minutes if I had to. If I do more steps, it can go from five to 15 to 30 minutes for a red carpet. On the other hand, if it's a red carpet where I need really precise makeup under a microscope, it can take up to an hour and 15 minutes, but that includes listening to music and checking texts.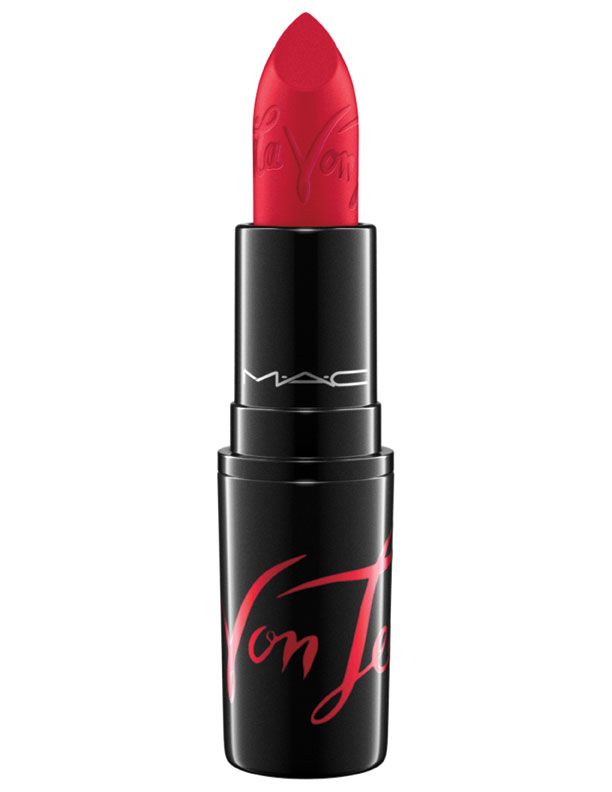 How do you feel when you aren't wearing makeup?
I feel really good in the privacy of my own home. I like people around me. I'm not embarrassed to have people see me without makeup. People often say,"You look so young without makeup." I don't care about looking young. I like looking young and I am glad for the compliment but it's not my goal. I love wearing makeup. So whenever I leave the house, it's always red lipstick.
In the past, you've dressed up for Halloween as a "normal girl." How did that tradition develop?
It's a big psychological experiment, that normal-girl makeup. I didn't do it this year because I was on a plane back from the Middle East. I've done it three times over the past few years and everyone cracks up. Even my friends don't recognize me. It's fun and funny but it's too much work. I have to have Arlt do my makeup and he does what he calls the Victoria Beckham on me. I have to take off all my red nail polish and everything since I can't go through the drama and then be seen later with beige nails.
And then it's totally different. I lose all my VIP privileges. Strange men try and approach me. It's really weird washing off all the beige. It is so much makeup with all of the highlighter, bronzer, and gloss. I can't bear it. It's so hard to wash off. A matte-red lipstick is so much easier to wash off.
I just remember I used to travel often with someone who was a "normal" girl. And her beauty routine would include a full blowout and natural makeup. But we would take the same amount of time! It's the same thing — it's just that while you are blowing out your hair straight, I'm putting mine in hot rollers. I'm not wearing any more makeup. In some cases, I'm actually wearing less makeup than those who wear "natural" makeup. It's just a different color. 
This interview has been condensed and edited.