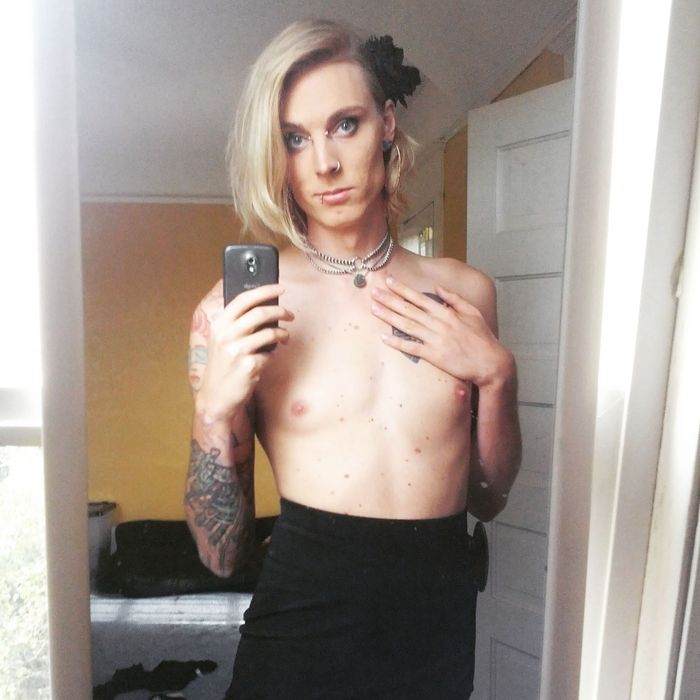 Do I have boobs now?
Photo: courtdemone/Instagram
It's been a long time since we first started talking about freeing the nipple, but if you've remained out of the loop, allow Instagram and Facebook's terms of service to fill you in: "We remove photographs of people displaying genitals … we also restrict some images of female breasts if they include the nipple." Male nipples are okay, while female nipples are not, and women everywhere have not stopped fighting back against the patriarchal policing. Miley Cyrus, Naomi Campbell, and Rumer Willis are some of the celebs to contribute their names to the cause, and now Courtney Demone, a transgender woman from Victoria, Canada, is adding a new layer of nuance to the discussion.
Demone has taken to Facebook and Instagram to ask the question "Do I have boobs now?," posting topless photos of herself as she undergoes hormone replacement therapy. Demone is waiting for either company to flag her photos as inappropriate, asking, "At what point do I need to start covering my nipples?"
"Showing images that some people could consider pornographic comes with high gains, but it also runs high risks, like potentially losing advertising funding, potentially being given an older user rating (though this is debatable), and losing users who are concerned they'd be exposing themselves and their children to pornography," Demone told the Guardian. In early October, Instagram's CEO Kevin Systrom blamed Apple for the app's prudishness toward female nipples. They would totally free the nipple if they could, he claimed. But Demone doesn't buy it.
The unpredictable and inconsistent policing from both social media sites adds to the frustration for advocates. Instagram has deleted all photos of Demone where she presents as more "feminine" and is topless, while on Facebook the images remain (despite those same photos being flagged for removal). Facebook's gender-identity policy would suggest that the site would remove her topless photos, as the company recognizes "self-identified gender" and their "community standards are applied on this basis."
#DoIHaveBoobsNow has gained a significant amount of traction on social media, and many hope it will add to the resounding cries for less policing of women's bodies online, as well as contribute to important discussions about the unfair categorizing of trans and non-binary people.