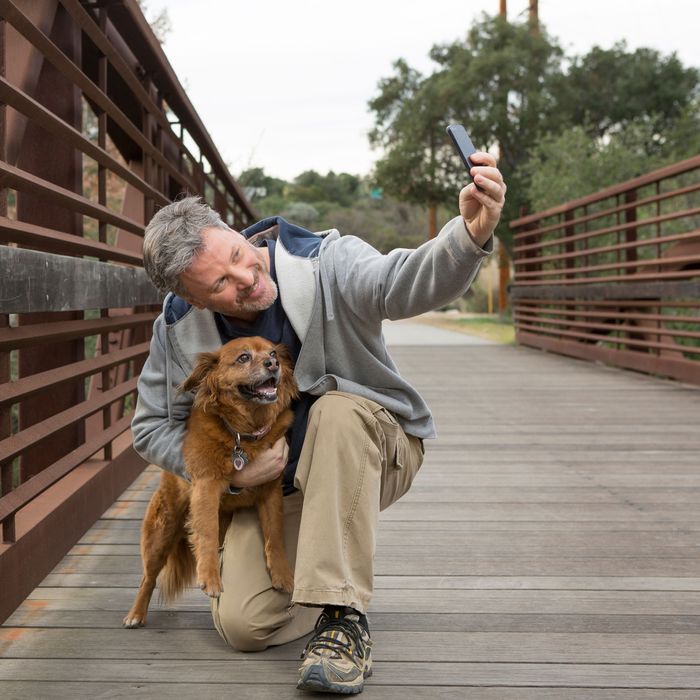 On to you, but not mad at it.
Photo: GS
As anyone who's walked a dog knows, they're great icebreakers. The Atlantic recently looked at the research on interactions between dog owners and strangers and it confirms that a four-legged friend is the ideal wingman, turning otherwise cold humans warm. Studies show that not only do strangers smile more at people with dogs, they're also more likely to start a conversation, help them pick up something they dropped, and even give out their phone number. (In a 2008 study, a male researcher's rate of success in getting women's numbers jumped from 9 percent to 28 percent when he had a pup with him.)
Before dating apps, men hoping to win over canine-loving women with a dog (or the dog of a friend) had to actually go outside and squire said animal along a busy street or through a dog park. Now, all they have to do is include a dog selfie in their Tinder profile, and women will find them caring and capable of commitment. Yet this inference is an example of "fundamental attribution error," as a professor of animal ecology tells The Atlantic.
"When we see people with animals, we just assume that relationship is wonderful and it's a reflection of that person," says Purdue University's Alan Beck. "We assume they are literally the true good dog owner, as opposed to they just happen to be with a dog or maybe he hates the dog, or whatever." By all means, ask him about the Lab puppy to determine if he's using his friend's dog as an adorable lure. Though if he says the right things, you can probably forgive him for that.