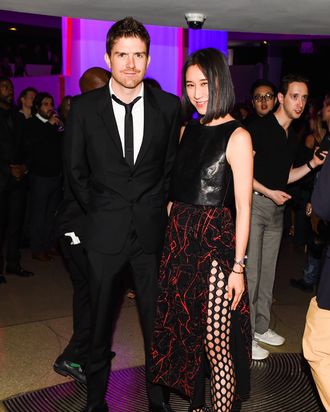 Photo: Billy Farrell.com/BFA
Now that she's got a few months under her belt at Instagram, Eva Chen has noticed several workplace differences between the Silicon Valley giant and her former employer Condé Nast, where she ran the just-shuttered Lucky.
"The elevator situation at Facebook is different from the Condé Nast elevator, absolutely," Chen told the Cut at Dior's Guggenheim International pre-party on Wednesday. "Rather than people sizing each other up in the elevator and looking at what people are wearing, they're usually having a conversation about something — I usually don't understand a single word people are saying, because they are speaking in terms that the layperson does not really understand. But it's amazing, like, 14 years from now, we're all going to be like, 'Yes!'"
And her designer clothes do stand out in Silicon Valley, the hoodie capital of the world. "When I wear, like, seven-inch Paul Andrews heels, it's usually considered, uh, not the norm," she says. About those hoodies, Chen says she famously presented one to Anna Wintour at an internal Q&A because at Instagram HQ swag is a thing.
"Sweatshirts tend to be the uniform in Silicon Valley, and basically we have lots of Instagram sweatshirts that actually a lot of guests at the campus ask for. So a lot of celebrities are like, 'Oh, we're here on the Facebook-Instagram campus, we'd love an Instagram sweatshirt,' and they want to take pictures with it. So I thought I would give Anna a sweatshirt, and she very politely replied that she doesn't wear sweatshirts — she was a great sport about it — and then she held it up for one second, and then I'm pretty sure it apparated into the ether," Chen said, laughing.
Did she really think Wintour would try it on? "Really, I was hoping that Anna would try it on and maybe just, like, walk around campus in it, because people would have lost their minds," she says. The event was internal, for employees only, and the rest of us only heard about it through social media. "It was amazing, about 500 people turned out for that talk on a Monday morning at about 9 a.m., which is, you know, difficult. And I think people would have lost their minds even more. But I think she was amazing at the Q&A — there are a lot of quotes that are all on Instagram, I can't repeat them."
Another big Instagram fashion trend that Chen never saw at Condé Nast are Utilikilts. "Utilikilts are very popular. They're basically cargo pants, but in kilt form," Chen explained. "It's not just a kilt, it's like a skort with lots of pockets, and it's usually made with a rip-stop material. That's very much trending right now in Silicon Valley. But honestly, they are very helpful, because they keep things in the pockets that, I don't know, you might need as you create products that will change the world for 400 million people."
However, like Wintour, Chen has yet to jump on either of these Silicon Valley looks. "I have not worn a Utilikilt or a hoodie yet, although obviously athleisure is a big movement, and everyone from Derek Lam to APL to Chromat are designing high-fashion versions of athleisure," she says. "So if I could collaborate with one of them for a sweatshirt, yes, I'd be all over that."
As for yesterday's announcement that Lucky is closed for good, Chen looks on the bright side. "I just feel lucky — which is a pun I can now start using again — to have been part of the amazing team and family, the whole squad, that was Lucky magazine," she said. "Actually, some of us are having a mini reunion tomorrow night, and we are planning a wake for it. The team at Lucky, we used to always say, 'Once a Lucky girl, always a Lucky girl.'"