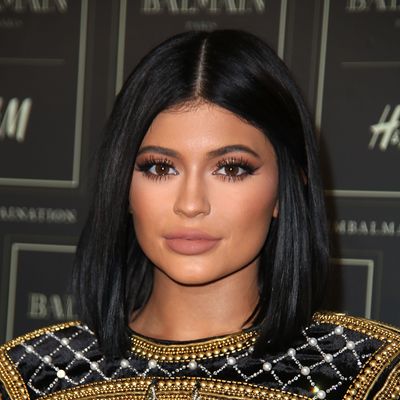 Kylie Jenner.
Photo: Sonia Moskowitz/Getty Images
Kylie Jenner has been promising to release a lipstick line for months now, and on Monday, it appears that she'll make good on her word. Dolce K, Candy K, and True Brown K are the three shades in Kylie's debut "lip kit" collection, which she began to promote across her social-media channels Sunday afternoon. Each shade is a variation of nude: Candy K leans more pink, Dolce K more caramel, and True Brown K steers toward a warm brown. The texture is what Kylie describes as a "matte liquid," and, from photos, seems similar to other lipsticks of the same genre, including NYX's Soft Matte Lip Cream or Stila's All Day Liquid Lipstick.
As the name suggests, Kylie's lip kit holds more than just lipstick. Each kit comes equipped with a matching lip pencil of the same shade. Though she hasn't disclosed the kit's price, you can purchase one of your own starting Monday at 12 p.m. EST online at a site Kylie will announce under the Instagram handle @lipkitbykylie on Monday. Welcome to Cyber Monday, Kardashian-Jenner style.