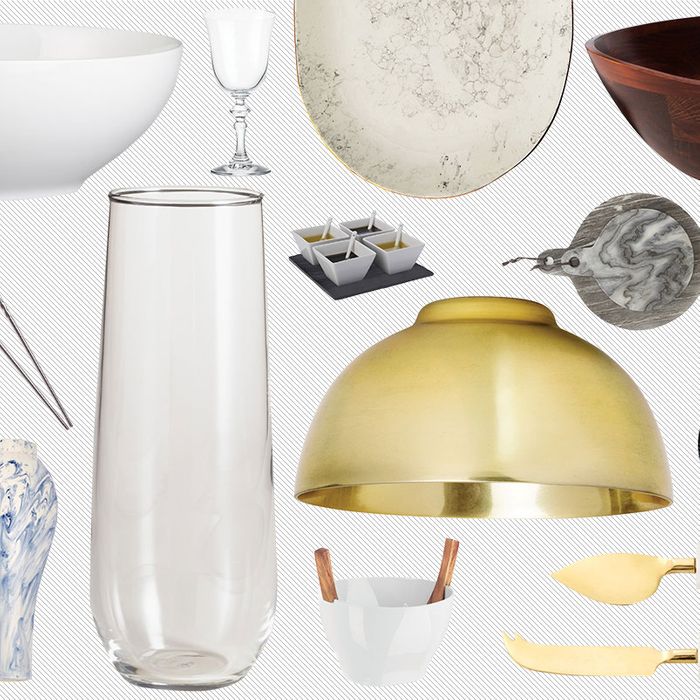 A weeklong series on the art of entertaining, for women who are too busy for Pinterest.
Maybe you're not the type to grind leftover stale bread into breadcrumbs or construct gingerbread renditions of your sprawling farm estate. But who cares? There's no law against serving takeout at a dinner party. Whether it's a rotisserie chicken with reheated sides from Whole Foods or a pile of pad Thai and spring rolls, just throw out the boxes and arrange your spread nicely on a few elegant plates. Add real utensils, and boom: You have a fancy-looking meal that you can serve to a group, like the grown-up you are.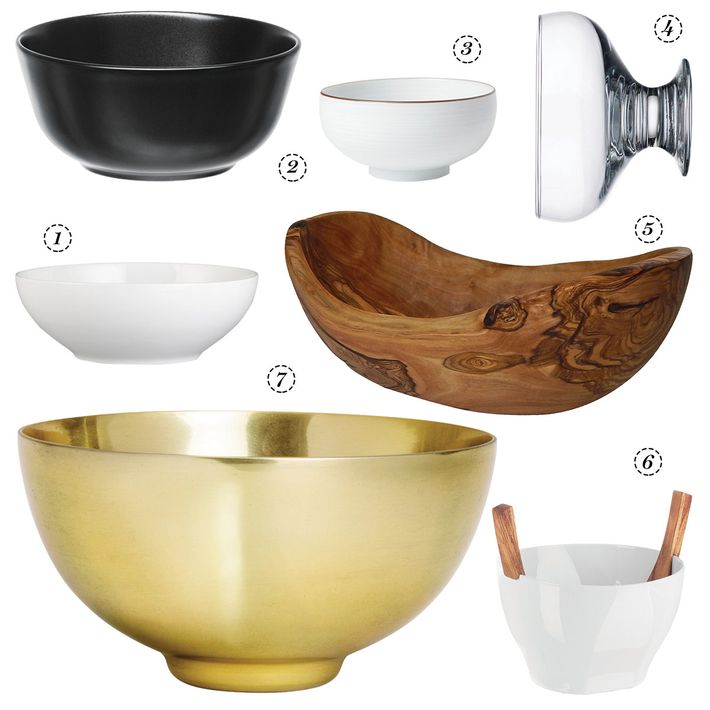 1. Crate & Barrel set of 4 bistro bowls, $25 at Crate & Barrel; 2. Ikea Dinera bowls, 4 pack. $10 at Ikea; 3. Hakusan white hakuji sendan serving bowl, $48 at Totokaelo; 4. Palais ice cream bowls, set of 4, $13 at Amazon; 5. Lipper International 13" cherry wavy rim bowl, $21 at Amazon; 6. Savore salad bowl, $75 at One Kings Lane; 7. H&M small metal bowl, $7 at H&M
Bowls are your friends when it comes to artfully arranging a multicourse feast. Begin with small bowls like the ones from Ikea or H&M above, and set out nuts or other snacks. Segue into a salad — you can go rustic with a wooden style or modern and organized with Savore's option, complete with tong rests. Serve noodles or fried rice in big Crate & Barrel bowls, and finish the meal with scooped ice cream.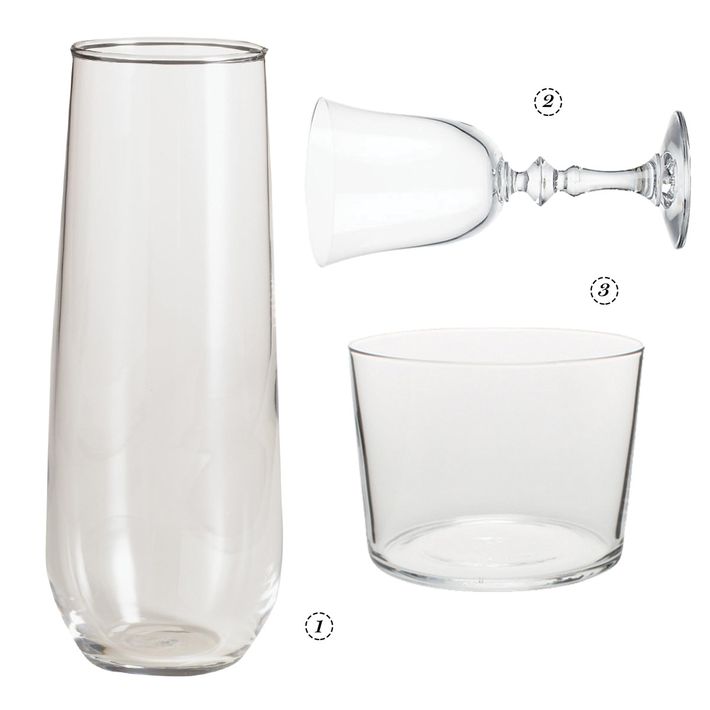 1. Set of 4 stemless Champagne flutes, $6 at World Market; 2. CB2 Cheval wine glass, $5 at CB2; 3. Canvas Home Spanish wine glass, $10 at Canvas Home
Setting out elegant yet inexpensive glassware to serve Champagne or wine really sells the "upscale" dinner party vibe.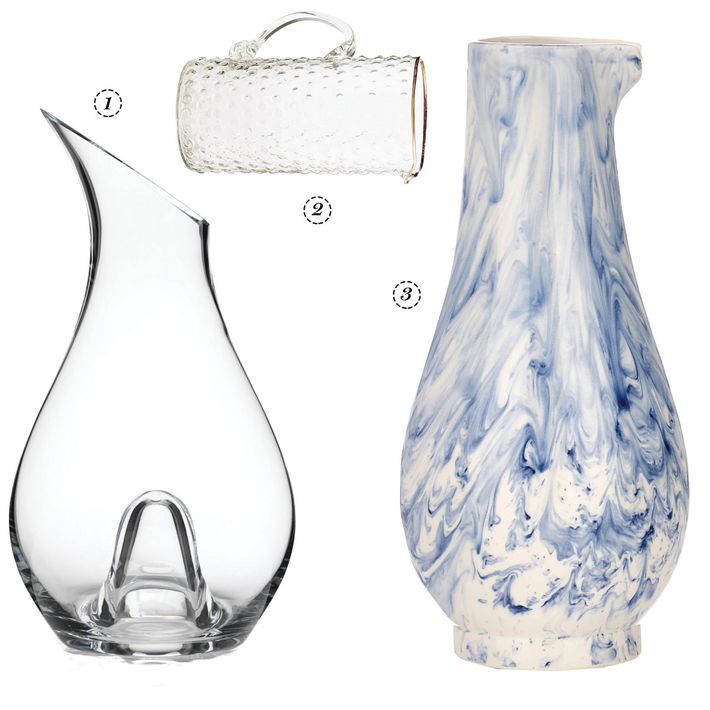 1. Luigi Bormioli Magnifico thumb decanter, $35 at Luigi Bormioli; 2. West Elm textured pitcher, $29 at West Elm; 3. 1882 Ltd. Inc Indigo Storm jug, $54 at Barneys
Don't limit carafes to just water, wine, and sangria. Throw in some inexpensive flowers, and all of a sudden you have a pretty vase at the center of your table.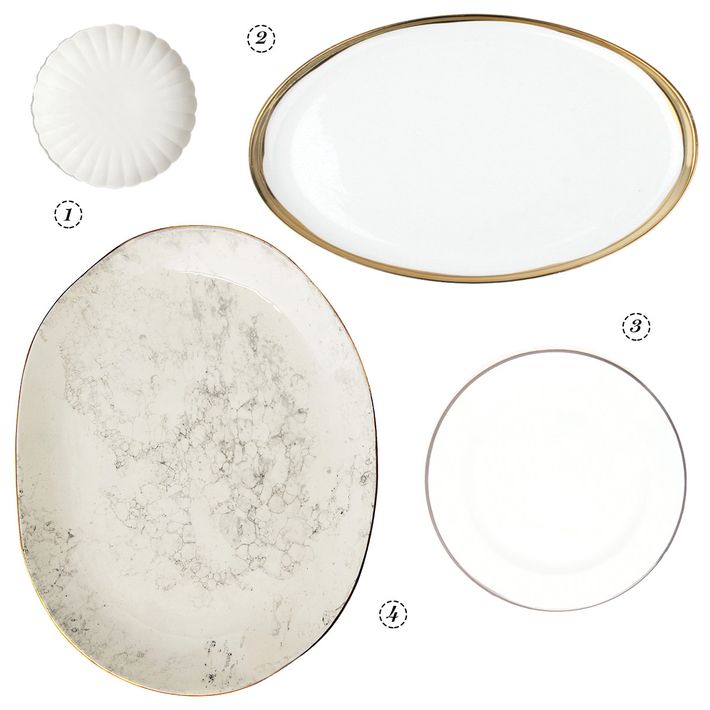 1. Chrysanthemum plate, $45 at Nalata Nalata; 2. Canvas Home Dauville platter, $50 at Canvas Home; 3. Gray enamel rim dinner plate, $12 at Poketo; 4. Marbleized serving platter, $32 at One Kings Lane
A clean white plate can make even $1 slice pizza look fancy. You can splurge on beautiful Japanese pottery or go for affordable and durable with enamelware. If you're going to serve a bigger entrée like chicken, fish, or steak, try displaying it on a gold-rimmed or marble platter.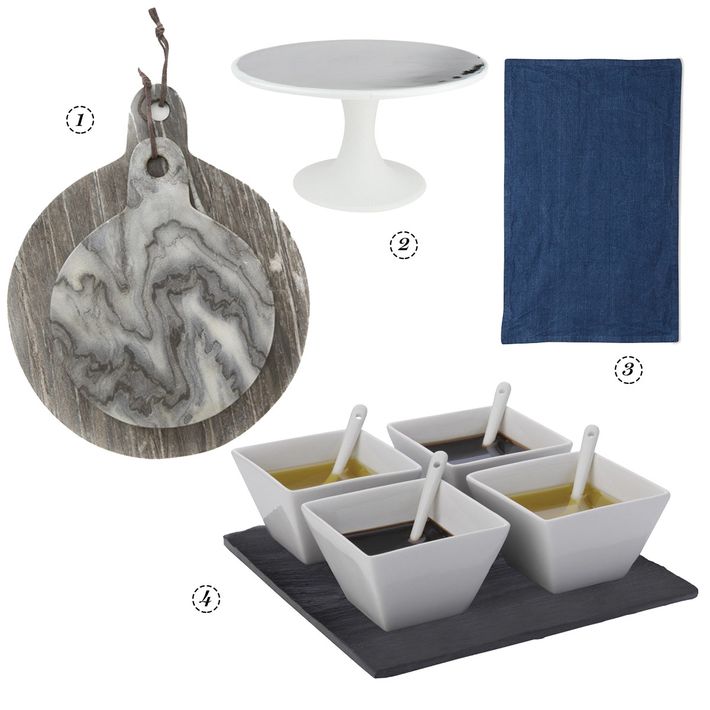 1. The Dreslyn round marble cheese board set of 2, $80 at The Dreslyn; 2. Canvas Home Dauville cake stand, $98 at Canvas Home; 3. The Things We Keep linen kitchen napkins, $26 for two at Steven Alan; 4. Maxwell & Williams white basics slate 9-piece square dip set, $40 at Macy's
To really emphasize how much (faux) effort you put into the entire affair, don't forget the little details. You can serve cheese on marble boards or display cookies on a cake platter. Somehow linen napkins make everything that much chicer.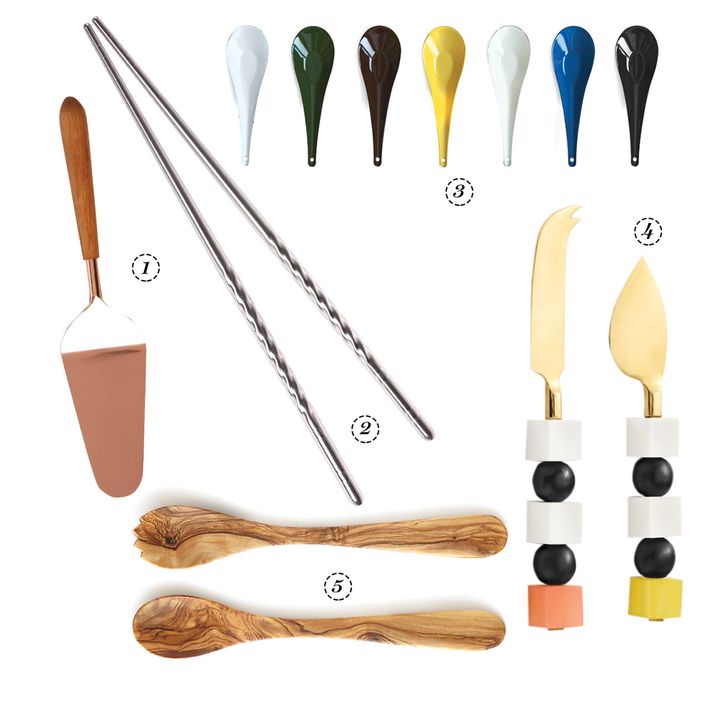 1. Timber & Ore cake server, $24 at Anthropologie; 2. Rbenxia stainless steel chopsticks, $4.50 for 5 pairs at Amazon; 3. Noda Horo enamel soup spoon, $10 at Nalata Nalata; 4. Famiglia Miendini cheese knives, $196 for set of two at Comunione; 5. Redecker salad servers, $22 at Steven Alan
Other odds and ends that are helpful to have around: chopsticks and soup spoons if you're serving anything involving noodles and broth, a pretty cake server for dessert, and salad servers if you happen to get just a bowl. And these cheese knives make for a spectacular gift, in case you know someone who loves to host a wine-and-cheese night.